Announcements
New Members
The Lowell Center would like welcome the following new participants to the GC3:
Target
Rivertop Renewables
GC3 in action
Bayer MaterialScience Hosts GC3 Data Retreat
The GC3 Chemical Data working group met November 11-12 in Pittsburgh, PA for a retreat hosted by Bayer MaterialScience. The group worked to finalize a guidance document for data gathering within supply chains and began planning possible next steps. The guidance document will be completed and available in early 2011.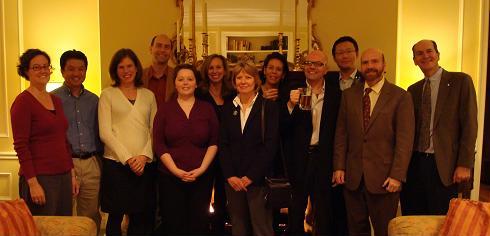 GC3 Chemical Data Retreat Participants from left: Jennifer Young (ACS Green Chemistry Institute), Homer Swei (Johnson & Johnson), Teresa McGrath (NSF International), Joel Tickner (Lowell Center), Melissa Coffin (Lowell Center), Mary Ellen Mika (Steelcase), Janet Mostowy, Bayer MaterialScience, Monica Becker (Monica Becker & Associates), and George Pavlovich, Shen Tian, Karl Haider, and Don Wardius (Bayer MaterialScience).
GC3 Pilot Project Begins: Alternatives for Wire and Cable
The GC3 working group focused on creating a model for business and academic partnerships through green chemistry solutions formally began work on a pilot project: evaluating plasticizers and materials used in wire and cable jacketing. The group plans to present intermediate findings from the project at the 2011 GC3 Roundtable in May. Contact us to join the project...
GC3 Publishes Green Glossary
In an effort to gain some clarity about the definitions of terms commonly used to market and sell "green" products, a GC3 working group has developed a "Green Glossary." Terms that are commonly used to market and sell green products were researched and a number of these were selected for inclusion in Version One of the Glossary. Gathered from various sources including government, industry, certifiers, and the nonprofit sector, the glossary presents a variety of definitions for single terms, highlighting the conditions making greenwashing so prevalent in the marketplace. Read more...
green chemistry News

Revised California Green Chemistry Regulation Open for Comment
The California Department of Toxic Substances Control (DTSC) released an updated version of the California Regulation for Safer Consumer Products. DTSC will collect comments on the draft through close of business, December 3, 2010. Read more...
EPA Seeking Comments on DfE Standard for Safer Products
Periodically, the U.S. EPA's DfE Program proposes and adopts enhancements to its "Standard for Safer Products (the "Standard") which establishes the minimum requirements for identifying products that satisfy DfE's safer product criteria and are eligible for partnership. The enhancements serve multiple purposes, among them, they: keep the Standard current with the state of scientific and technological innovation; respond to stakeholder requests for clarity and added transparency; raise the bar of protectiveness to ensure leadership for DfE-labeled products; and, expand the scope of the program as demand, capacity, and opportunity warrant. Comments will be accepted through December 31, 2010. Read more...
LEED Credits Now Available for Chemical Avoidance
In October the US Green Building Council (USGBC) announced that new credits would be made available for green building projects which avoid brominated flame retardants and phthalates. USGBC expects that additional chemicals of concern will be added in the future. Read more...
FTC Proposes Changes to Green Guides
The Federal Trade Commission has proposed changes to its environmental marketing guidelines, known as the "Green Guides." These changes are aimed at alleviating consumer confusion around the marketing of products with environmentally sustainable attributes. The Green Guides were last updated in 1998. Read more...
Green Products Case Study Published
The Lowell Center for Sustainable Production recently published Green Toys Inc., a case study exploring how companies can meet sustainability criteria while remaining economically successful. The report follows a 2009 Lowell Center publication proposing a framework by which sustainable products can be measured. Read more...

New York Requires Chemical Ingredient Disclosure for Cleaning Products
In September 2010 the New York Department of Environmental Conservation (DEC) announced that it would begin enforcing a long standing regulation allowing the agency to require chemical ingredient information. DEC has stated that this information will be required for any company selling cleaning products in New York state. Read more...

New California Report on Alternatives Assessment
The California Department of Toxic Substances Control (DTSC) released a report entitled Chemical Alternatives Analysis: Methods, Models, and Tools. The report provides background information and development guidance for alternatives assessment efforts. Examples of tools, methods, standards, and models of alternatives assessment are included. Read more...

San Francisco Develops Website of Approved Products
In August 2010 the city of San Francisco announced a website featuring an online collection of products which meet the city's green purchasing ordinances. Read more...