Announcements
Save the Date!


The 7th Annual GC3 Innovators Roundtable

May 9-11, 2012
Hosted by NSF International
Ann Arbor, MI

Please join us for the 7th Annual GC3 Innovators Roundtable where you can share information, experience and understandings on advancing the implementation of green chemistry and design for environment practices with others. Please forward this information to colleagues who may be interested in this event, and send topic, speaker and discussion group suggestions to sarah_shields@uml.edu. We look forward to seeing you there.
GC3 Advisory Committee 2011
Thank you for participating in the 2011-2012 GC3 Advisory Committee elections. We are happy to announce the following members:
Sarah Beatty, Green Depot
Buzz Cue, BWC Pharma Consulting
John Frazier, Nike
Barbara Hanley, HP
Al Iannuzzi, Johnson & Johnson
Bob Israel, Diversey
Rich Liroff, Investor Environmental Health Network
Roger McFadden, Staples
Ken Zarker, Washington State Department of Ecology
New GC3 Website to be Unveiled in October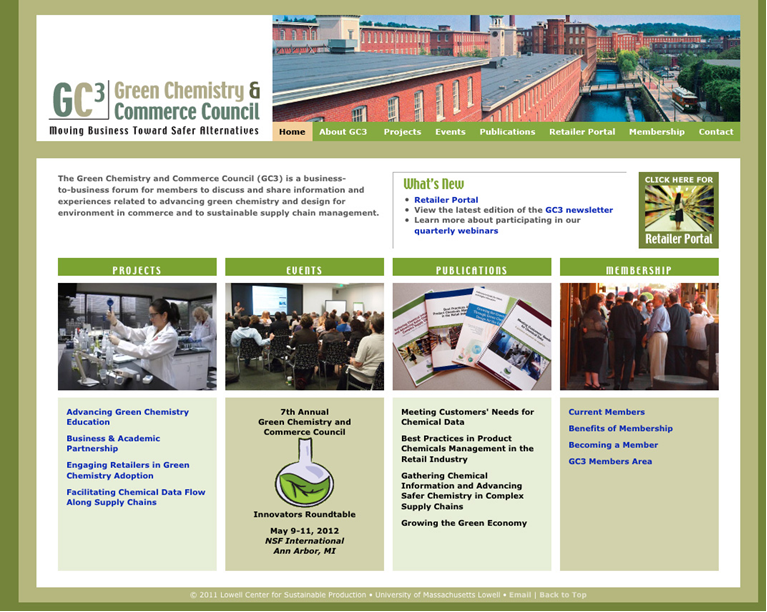 We are pleased to announce the upcoming unveiling of the GC3's newly redesigned website. Over the past few months the Lowell Center has been working to update the website to reflect the GC3's growth and evolution over the years. A few of the new features include; a new layout, an enhanced GC3 members area, and an interactive map displaying past GC3 events. One of the new features we are most excited about is the addition of the Retailer Portal.
The Retailer Portal

The Retailer Portal: Tools to Evaluate Chemical Ingredients in Products, is a database and summary document designed to help retailers become educated about the tools and systems available to evaluate and manage chemical ingredients in products. Many retailers are under increasing regulatory requirements and consumer and media pressure to sell safer or "green" products but do not have the expertise or resources to understand more about the chemical ingredients in the products they sell and to find safer alternatives to chemicals of concern. In response, some retailers are developing their own tools or systems to evaluate the chemical content of the products they buy and sell, some are working with developers of 3rd party evaluation systems to develop customized tools, and others are working collaboratively to develop tools useful to a whole industry sector. The goal of this project is to help retailers establish systems to track the chemical ingredients of the products they sell, identify chemicals of concern in products, and advance safer chemistry in their supply chains.
We welcome additions, modifications, and comments that will help us keep this Retailer Portal up to date. Please send information to sarah_shields@uml.edu
We hope you find the new website to be an effective representation of our GC3 work.
Webinars

September Webinar
Topic: Technology Advances Chemical Prioritization and Safer Alternatives Assessment: GreenWERCS Green Chemistry Assessment Scoring Tool
Learn how industry leaders are using the latest science on Green Chemistry, coupled with the latest software technology to advance safer alternatives and reduce costs of evaluating and implementing safer chemistry across the supply chain. This webinar will focus on the drivers for Green Chemistry and how firms can use new software tools to reduce the costs of chemical alternatives assessment, increase transparency and have a scientifically defensible approach to chemical selection that prevents Greenwashing. The webinar will also include information on relative and absolute scoring methods for measuring the impact of chemicals on human health and the environment.
Presenter: Tom Carter, The Wercs
Date: Tuesday, September 20, 2011
Time: 2pm Eastern/ 11am PacificCost:
Participation in the webinar is free to GC3 member companies. Others may join the webinar for a fee of $50.
Call & Log-In Information: Participation information will be circulated to GC3 members over the green-innovation listserv. Those paying for the webinar will be given this information upon receipt of payment. Contact sarah_shields@uml.edu for details.
GC3 Project Group Updates
Advancing Green Chemistry Education
Several ideas for advancing green chemistry education were discussed at the lively project group session held at the GC3 meeting in May. Following discussions with several GC3 participants, two ideas were proposed for the group's activities for the year. These were discussed and further elaborated on a GC3 education group call on Friday September 2, 2011.
1. Advancing business support. The group would develop an industry "policy statement" in support of green chemistry education at the university level. The goal of this project would be to develop a policy statement that can be widely supported by chemical companies, product manufacturers, and retailers supporting the need for establishment of green chemistry education programs at the university level and how graduates of institutions with such programs would be preferentially treated in the market place, all other aspects of education being consistent. In developing the statement, the group would interview industry and green chemistry education experts to develop an appropriate scope set of positions in the policy statement. The group would then conduct outreach for sign-ons to the policy statement once it is written. This policy statement would provide synergies with Beyond Benign's university compact for green chemistry education.
2. Green chemistry and safer alternatives boot camp. The project group would develop curriculum for a 3-4 day green chemistry and safer alternatives boot camp to be held in summer 2012. The curriculum would be tailored to a broad technically savvy audience from material designers and chemists to regulatory affairs experts and include both concepts of molecular design, alternatives assessment, and implementation. The curriculum would be based on adult learner concepts with active learning and case studies. Curriculum development would involve the Lowell Center, Beyond Benign, UC Berkeley, the GC3 project group and the Massachusetts Toxics Use Reduction Institute, among others.
For more information or to join the project group, contact Joel Tickner at joel_tickner@uml.edu
Business and Academic Partnerships
Highlights of the efforts of the pilot project working group over the past couple of months include the following:
Conducting further research to address data gaps identified for three alternative plasticizers, TEHTM, DINCH, and DOZ, that have undergone the Green Screen evaluation;
Identifying potential funding sources for conducting Green Screen evaluations for seven additional plasticizers alternatives;
Submitting a research proposal by the UMass Lowell Plastics Engineering Department to the Toxics Use Reduction Institute to conduct material testing and performance testing for formulations with alternative plasticizers during the upcoming academic year;
Presenting the work of the GC3 pilot project team at the U.S. EPA Design for Environment phthalates alternatives assessment kick-off meeting on August 24th to explore ways for the two initiatives to collaborate
The next conference call will take place on Tuesday October 11th at 12:00 EST. If you have any questions with regards to this project group please contact Greg Morose Gregory_Morose@uml.edu
Engaging Retailers in the Adoption of Safer Products
There are currently two active projects in the Retail Project Group and both had calls at the end of June with the following outcomes:
1. The Business Case for Green Chemistry: The Lowell Center for Sustainable Production is drafting a 1-2 page document that makes the business case for green chemistry in the retail sector. It is being developed to help "sell" green chemistry and safer products to leaders and others in retail operations and will provide a statement for the group about why the work of the GC3 and the retail project group in particular is important to the retail industry.
2. Mapping the Retail Sustainability Efforts as they Relate to Toxics in Products: Retailers are overwhelmed with invitations to attend conferences and join sustainability efforts. They are eager to "map" the sustainability efforts that focus on toxics in products to help understand where they should put their efforts. Based on responses from an email sent to the GC3 and other research, the Lowell Center for Sustainable Production is compiling a list of organizations and their relevant projects.
Both projects will have follow up calls at the end of September. If you have any questions or would like to join the work of either group, please contact Yve Torrie Yve_Torrie@uml.edu or 978.934.3121.
Facilitating Chemical Data Flow Along Supply Chains
The Chemical Data Project Group is engaged in a new project called the Chemical Data Standardization Project to evaluate the feasibility and benefits of standardizing chemical data categories and electronic formats across companies in supply chains, for the range of corporate programs that data are needed for, including: regulatory compliance (e.g., REACH and ROHS); product design; chemical hazard evaluations; life cycle analysis; product certification programs; and ingredient disclosure initiatives.
By standardizing chemical data, companies will have greater success in obtaining data from suppliers, communicating data to customers and regulators, data quality can be improved, and the cost of these activities can be reduced over time.
To begin this process of standarization the project group is developing a pilot project in the electronics sector involving: companies in the electronics supply chain; providers of systems and software for inventorying the chemical content of products and evaluating the hazards of chemicals; and supply chain management/environmental compliance software providers. Seagate, HP and Staples are participating in the pilot.
The project has four main phases, as follows:
Phase I: Creation of chemical data "superset" - With input from participating companies across the supply chain and from software providers, we will develop the specifications for a chemical data "superset," to include type of data, units of measure, and electronic format.
Phase II: Selection of pilot product component, data collection and formatting
With input from project participants, a product component will be selected and data gathered from the supply chain to populate the chemical data superset (to the greatest extent possible/practicable), in the specified format.
Phase III: Evaluation of data by project participants
The companies along the supply chain and chemical evaluation system & software providers will be given the data and asked to utilize and evaluate it.
Phase IV: Development of GC3 Report of the Pilot
A report of the pilot project will include documentation of the chemical data superset, the results of the evaluation, and recommendations.
The next two calls for the Chemical Data Project Group will be held on September 13 @ 3:00 EST and October 18 @ 3:00 EST. Call-in information and notes from the first project group call can be accessed by GC3 members at http://www.greenchemistryandcommerce.org/participants.chemicaldata.php. For more information or to participate, please contact monica@monicabecker.com
Green Chemistry News
EPA Proposes to Review New Uses of 14 Chemicals Classified as Glymes
The U.S. Environmental Protection Agency is proposing a program that would require companies to report new uses of chemicals known as glymes in consumer products. EPA's proposed action is based in part on concerns that additional uses of these 14 chemicals in consumer products could lead to harmful reproductive and developmental health effects. This proposed action is part of the effort to strengthen the agency's chemical management program and ensure the safety of chemicals. Read More...
EPA Removes Confidentiality Claims for More Than 150 Chemicals
In order to ensure the public has as much information as possible about the health and environmental impacts of chemicals, the U.S. Environmental Protection Agency has made public the identities of more than 150 chemicals contained in 104 health and safety studies that had been claimed confidential by industry. This action to disclose the identity of more than 150 chemicals is an important step in EPA's commitment to give the American people access to critical information about chemicals that their children and families may be exposed to. Read More...
EPA Honors Winners of 2011 Presidential Green Chemistry Challenge Awards
On June 20th, this year's Presidential Green Chemistry Challenge Awards were awarded in Washington DC. These prestigious awards recognize the design of safer and more sustainable chemicals, processes, and products that will protect Americans, particularly children, from exposure to harmful chemicals. The 2011 award winners are:

· Academic: Bruce H. Lipshutz, PhD, University of California, Santa Barbara, Calafornia
· Small business: BioAmber, Inc., Plymouth, Minnesota
· Greener synthetic pathways: Genomatica, San Diego, California
· Greener reaction conditions: Kraton Performance Polymers, LLC, Houston, Texas
· Designing greener chemicals: The Sherwin-Williams Company, Cleveland, Ohio
Oregon Sustainable Chemicals Policy Report
Portland State University (PSU) released its report Leadership in Sustainable Chemicals Policy: Opportunities for Oregon, that evaluates chemicals policy efforts in Oregon, highlighting significant gaps in management of toxic chemicals at the state and federal level and making specific recommendations where Oregon can have an edge in the growing market for safer alternatives. Read More...
Status of Washington State's Children's Safe Product Act - Reporting Rule
The Washington Department of Ecology has adopted a final rule to carry out the state's Children's Safe Product Act. The rule is designed to collect information that will help government and the public better understand the presence of chemicals in children's products. It requires manufacturers of children's products to report if their products contain certain chemicals of concern. Read More...
EPA Publishes Rule to Improve Reporting of Chemical Information

The U.S. Environmental Protection Agency is increasing the type and amount of information it collects on commercial chemicals from chemical manufacturers, allowing the Agency to better identify and manage potential risks to Americans' health and the environment. The improved rule, known as the chemical data reporting Rule (CDR), also requires that companies submit the information electronically to EPA, rather than on paper, and limits confidentiality claims by companies. Read More...
Design for the Environment (DfE) Alternatives Assessment Criteria for Chemical Evaluation
The EPA Office of Pollution Prevention and Toxics has posted final criteria for evaluating human and environmental effects under EPA's Design for the Environment (DfE) Alternatives Assessment program. The DfE alternatives assessment criteria are available through the following link.
EPA Considering New Toxicity Testing and Environmental Sampling for BPA

Following its BPA Action Plan announced in March 2010, the U.S. Environmental Protection Agency (EPA) is requesting public comment on possible toxicity testing and environmental sampling to study BPA's potential environmental impacts. Read More...
Creating Safer Consumer Products: The Information Challenges Companies Face
Journal of Environmental Science & Policy Volume 14, Issue 6, October 2011, Pages 605-614
This paper provides a firsthand view of challenges faced by 20 multinational consumer product companies in obtaining needed information about chemicals used as product inputs, and highlights the strategies these companies have voluntarily adopted in an attempt to avoid or reduce hazardous chemicals in their products. This information may be useful to policy makers in considering reform of U.S. chemicals policies, and may provide models of best practices for other companies that are motivated to minimize chemical-related product risks. Read More...
EPA's Design for the Environment Program: Partnership on Alternatives to Certain Phthalates
EPA has initiated a Design for the Environment (DfE) Alternatives Assessment, called for under the Phthalates Chemical Action Plan. The goal of this alternatives assessment is to help stakeholders identify safer chemicals and to provide a basis for informed decision-making by developing an in-depth comparison of potential human health and environmental impacts of chemical alternatives. The alternatives assessment will build upon existing knowledge with an emphasis on determining the potential for disproportionate impacts on children and other sensitive sub-populations. The intent of the alternatives assessment is to identify alternatives that may work for a range of intended uses. The kick-off meeting for this partnership took place on August 24, 2011.
Project Description and Invitation to Participate
The Future of Sustainable Chemistry
Part of a broader series sponsored by Dow Chemical, called The Future We Create, The Future of Sustainable Chemistry video conference was the third installment in an ongoing conversation to explore how chemistry can collaborate with other sectors and concerned citizens to solve humanity's most important challenges. View Video...
Newsletters of Interest
Sustainable Chemistry Alliance (SCA) newsletter