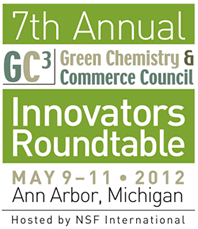 Come join experts from companies such as Nike, HP, REI, Hanesbrands and DuPont as well as academic and government leaders in discussions on advancing safer chemistry through supply chains.
Roundtable panels include:
Supply Chain Perspectives on the Commercial Adoption of Safer Substitutes
Innovation in Chemicals Management and Greener Materials in the Auto Sector
Tools for the Design and Selection of Safer Chemicals, Materials, and Products
Greening the Textile Industry
Emerging Bio-based Chemicals, Materials and Products through a Green Chemistry Lens
Engage with colleagues in discussions and informal networking to share experiences and identify new opportunities and collaborations.
GC3 Roundtable Keynote Speaker:
John Viera, Global Director,
Sustainability and Vehicle Environmental Matters, Ford Motor Company

John Viera, Global Director of Sustainability and Vehicle Environmental Matters at Ford Motor Company will be the Keynote Speaker at the 7th Annual GC3 Roundtable. He will be speaking about current research and implementation of a range of materials that are more sustainable than the traditional automotive materials currently being used by Ford. By doing so, function is being maintained along with quality and cost, and Ford is moving to materials that have reduced environmental impact as measured by CO2 emissions, waste to landfill, and natural resources, among others. Recycled plastics are specified wherever possible and Ford is working to "fill the pipeline" with more materials made from natural fibers and renewable feedstocks. John Viera will speak on these opportunities in more detail during this session.
Pre-Roundtable Tour of the Ford Research & Innovation Center, Wednesday, May 9t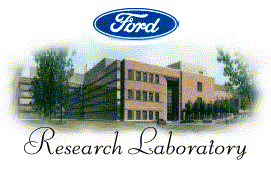 ***Space is limited- only three spots remain!!

The GC3 has scheduled a special pre-roundtable tour of Ford's Research and Innovation Center (RIC) in Dearborn, Michigan on May 9th from 9-11am for GC3 Roundtable attendees.
Participants will be able to get an exclusive, first hand look at Ford Motor Company's Research and Innovation Center located in Dearborn, MI. During a tour of Ford's sustainability labs, participants will explore the progress made by Ford scientists and engineers towards delivering sustainable mobility and protecting the environment. Tour stops will describe research on air quality, biofuels, water quality and novel biomaterials. Those on the tour will hear from Ford researchers first hand on their research initiatives and their vision for delivering sustainable solutions in future Ford vehicles.
Limited transportation to Ford tour will be provided by NSF International.
To reserve your place on the tour, RSVP to Sarah Shields at sarah_shields@uml.edu
Green Chemistry News
EPA Workplans on Priority Chemicals
In September 2011, EPA's Office of Chemical Safety and Pollution Prevention engaged stakeholders on the process the Agency intends to use to identify existing chemicals for risk assessment under TSCA. Utilizing the input received, EPA developed a work plan that identifies existing chemicals for risk assessment over the next several years. EPA posted the methodology for developing this work plan, the chemicals identified using the methodology, and seven chemicals for risk assessment development in 2012. In addition, EPA posted an existing chemicals program strategy, which includes risk assessment and risk reduction, data collection and screening, and public access to chemical data and information.
Communicating Hazards
New warning labels and standardized descriptions of chemicals' hazards are coming to U.S. labs, factory floors, and other workplaces. Through a regulation released last week, the Occupational Safety & Health Administration is bringing U.S. requirements for communicating chemical safety information to workers in line with an international system. Labor Secretary Hilda L. Solis says OSHA's revised hazard communication standard "will improve the quality, consistency, and clarity of hazard information that workers receive, making it safer for workers to do their jobs and easier for employers to stay competitive in the global marketplace".
Endocrine Disruptors and Asthma-Associated Chemicals in Consumer Products
A study published in Environmental Health Perspectives, shows that an alarming number of chemicals of concern are found in a broad range of household and personal care products. The study reveals that all of the 42 product tested including the majority of "green" products tested contained chemicals of concern, many which aren't listed on the labels. The study highlights the necessity of toxicological studies of these mixtures in order to understand their biological activity. It appears that consumers can avoid some target chemicals—synthetic fragrances, BPA, and regulated active ingredients—using purchasing criteria. More complete labeling would enable consumers to avoid the rest.