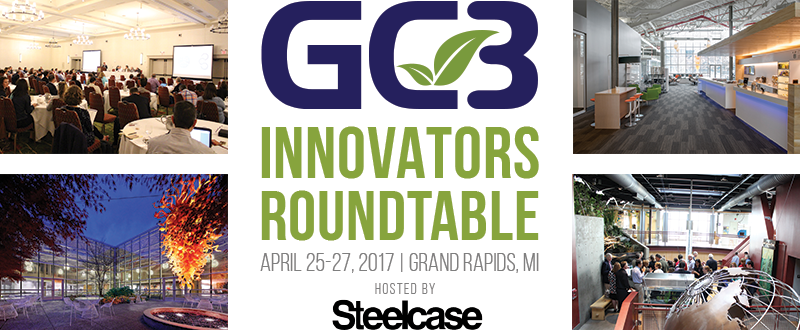 GC3 Innovators Roundtable
Hosted by Steelcase in Grand Rapids, MI
April 25 – 27, 2017
The GC3 Innovators Roundtable is a vital forum where leading experts in business, government, and not-for-profits gather to:
Learn about new business strategies and emerging policy issues that influence the application of green chemistry in industry
Network and discuss challenges and solutions to mainstreaming green chemistry
Form new business partnerships
Design and get involved in strategic, collaborative GC3 projects
The Roundtable presents a unique opportunity for businesses to connect across supply chains and sectors. Networking events and receptions are productive and enjoyable.  Attendees focus on developing practical solutions in a safe, collegial environment.
GC3 members and non-members are welcome to attend. Visit the 2016 Roundtable website.

Green & Bio-Based Chemistry Technology Showcase & Networking Event
Amway Grand Plaza Hotel, 187 Monroe Avenue NW, Grand Rapids, MI
April 24, 2017, 1:00 p.m. – 6:30 p.m. EST 
Join us for the Second Annual Green & Bio-Based Chemistry Technology Showcase & Networking Event. We will highlight ten innovative startups developing green and bio-based chemistry solutions and provide companies producing, using, and funding green and bio-based chemicals an opportunity to discover new technologies and innovative startups.  Learn more.
Sponsorships
Interested in sponsoring?  Contact us today about sponsoring the GC3 Roundtable!