2021 GC3 European Innovators Forum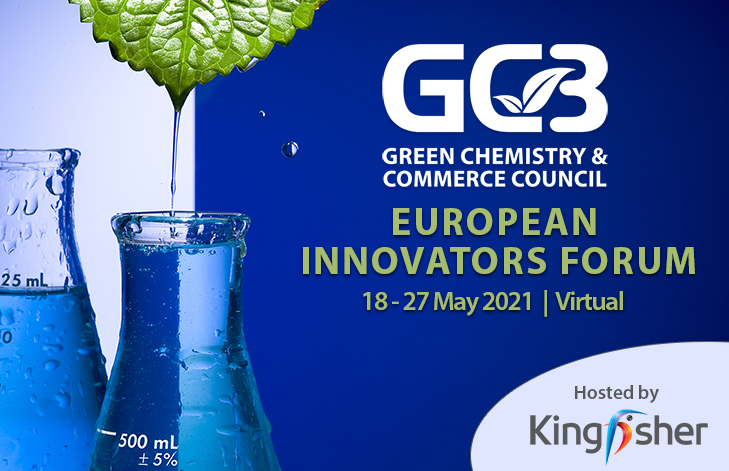 Join us for the 2021 GC3 European Innovators Forum (Virtual)
Hosted by Kingfisher and the Green Chemistry & Commerce Council, Inc., the GC3 European Innovators Forum will be held 18-20 May 2021 and 25-27 May 2021. The European Forum will carry the momentum from 14 years of experience working across the value chain to accelerate safer, more sustainable chemistries and will focus on the perspectives and ideas unique to the European market. Attendees will be able to:
Exchange strategies and best practices for accelerating sustainable chemistry innovation and adoption
Network to form new partnerships and collaborative projects
Connect with companies across supply chains and sectors
The Forum consists of a series of 6 (90-minute) sessions offered over the 2 week period. Registrants may attend any combination of the sessions that best meets their interests and schedule.
GC3 members and non-members are welcome to attend. Advance registration is required for this free event and you must register for each week separately.

What People are Saying about the GC3 Innovators Roundtable:
"The GC3 Innovators Roundtable is truly a one-of-a-kind opportunity for all stakeholders in the sustainable chemistry community. It's inspiring to see all the companies large and small striving to make sustainable chemistry the new standard for product development."
Agenda
We have an exciting agenda planned for the GC3 European Innovators Forum!
Sessions and speakers include:
Strategizing to Advance Safer, More Sustainable Materials
Lynette Chung, Covestro
Paul Ellis, Kingfisher plc
Bjorn Hansen, ECHA
Martin Kayser, BASF SE
Klaas Kruithof, AkzoNobel
Innovating Under the EU Chemical Strategy for Sustainability
Cristina de Avila, European Commission
Peter Dröll, European Commission
Marco Mensink, Cefic
Christian Verschueren, EuroCommerce
Exploring Functional Substitution as an Opportunity for Essential Use Management
Going Beyond REACH to Meet Consumer Expectations
Laurent Deronne, ADEO Services
Paul Ellis, Kingfisher plc
Randi Kronthal-Sacco, NYU Stern Center for Sustainable Business
Mark McCauley, Graham & Brown
Ylva Weissbach, H&M
Driving for Carbon-Neutral Circular Materials
Neil Parry, Unilever
Rachel Simon, GC3
Nelleke van der Puil, The LEGO Group
Commercializing Sustainable Chemistry in the EU
Mark Maxwell, GC3
Jane Murray, Merck KGaA
Bettina Roth, VAUDE Sport GmbH & Co.KG
Luca Spadoni, Reckitt

Click here to see the full agenda.
Thank you to our host!

Thank you to our Sponsors!
Sponsorship Opportunities
Sponsoring the GC3 European Innovators Forum provides your company with an opportunity to demonstrate its commitment to sustainable chemistry and raise its profile as a leader in sustainability to customers, suppliers, and other stakeholders.
Check out our sponsorship opportunities and contact us today about sponsoring!
Stay Updated
To receive the latest updates on the GC3 European Innovators Forum, please send an email with your contact information and we'll add you to our mailing list.