2021 GC3 European Innovators Forum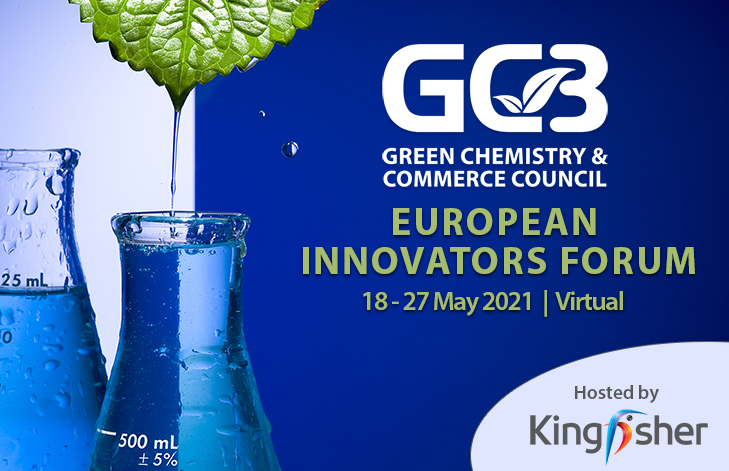 Thank you to all who joined the 2021 GC3 European Innovators Forum (Virtual)!
Hosted by Kingfisher and the Green Chemistry & Commerce Council, Inc., the GC3 European Innovators Forum will be held 18-20 May 2021 and 25-27 May 2021. The European Forum will carry the momentum from 14 years of experience working across the value chain to accelerate safer, more sustainable chemistries and will focus on the perspectives and ideas unique to the European market. Attendees will be able to:
Exchange strategies and best practices for accelerating sustainable chemistry innovation and adoption
Network to form new partnerships and collaborative projects
Connect with companies across supply chains and sectors
The Forum consists of a series of 6 (90-minute) sessions offered over the 2 week period. Registrants may attend any combination of the sessions that best meets their interests and schedule.
GC3 members and non-members are welcome to attend. Advance registration is required for this free event and you must register for each week separately.


REGISTRATION IS NOW CLOSED. STAY TUNED FOR INFO ON THE 2021 GC3 INNOVATORS ROUNDTABLE (VIRTUAL) THAT IS TAKING PLACE IN FALL 2021!
Please note that the slides and recordings will not be available to the public for this event.
What People are Saying about the GC3 Innovators Roundtable:
"The GC3 Innovators Roundtable is truly a one-of-a-kind opportunity for all stakeholders in the sustainable chemistry community. It's inspiring to see all the companies large and small striving to make sustainable chemistry the new standard for product development."
Thank you to our host!

Thank you to our Sponsors!
Stay Updated
To receive the latest updates on GC3 events, contact us with your contact information and we'll add you to our mailing list.