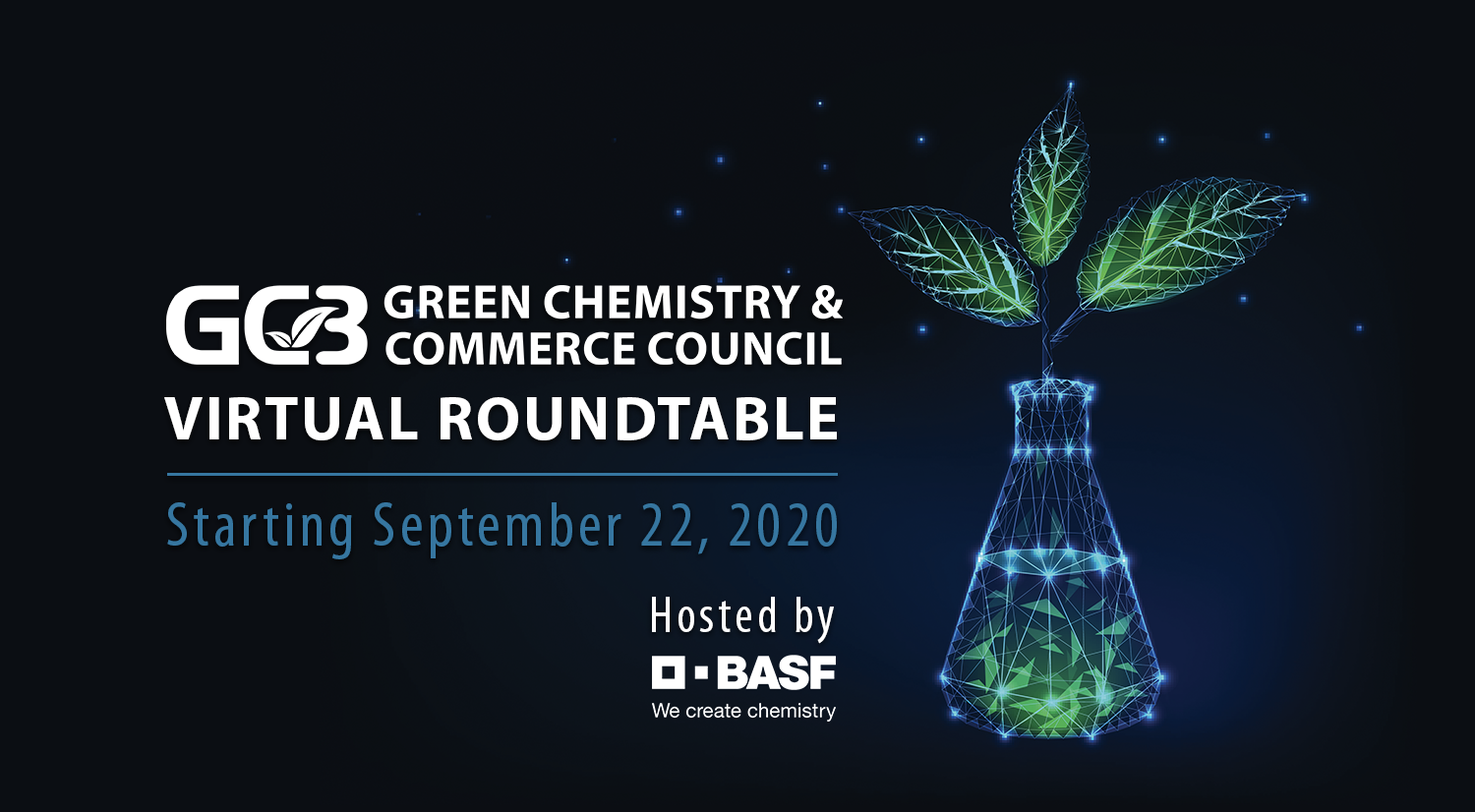 Join us for the 2020 GC3 Virtual Roundtable!
Vibrant, open, productive discussions have been the cornerstone of all GC3 Roundtable events, and the 2020 Fall Virtual Roundtable will continue this tradition online.
The program will include presentation and discussion sessions focused on three themes central to our community's work in advancing green chemistry: Innovation, Collaboration, and Commercialization. And the virtual format has allowed us to craft a schedule that will allow for rich, immersive exploration of each topic.
Registration is now open!

Agenda
Each core theme – Innovation, Collaboration, Commercialization – will roll out over the course of three 90-minute sessions, offered in a rhythm of Tuesday… Thursday…the following Wednesday. The first two sessions in each triad will offer presentations and interactive discussion on specific subjects. The third session the following week will then be devoted to moderated discussion to further explore that content.
We designed this schedule to accomplish three important goals: 1) offer substantive content to advance our collective work in green chemistry, 2) allow for valuable time between sessions for participants to absorb the content, and 3) respect participants' needs to conduct their regular work schedules.
Below is a thumbnail view of the Roundtable Agenda. The full agenda can be viewed here.

*** All sessions will run from 11:00am – 12:30pm EST ***


| | | |
| --- | --- | --- |
| Innovation Series: | | |
| Tuesday, September 22 | | Strategic Perspective: The Role of Diversity & Inclusion in Innovation |
| Thursday, September 24 | | Digitalization for Sustainable Innovation |
| Wednesday, September 30 | | GC3 Member Discussion: Environmental/Social Justice |
| | | |
| Collaboration Series: | | |
| Tuesday, October 6 | | Green Chemistry Enabling Circularity: Report |
| Thursday, October 8 | | Ingredient Transparency: A Key Step to Promote Innovation in Green Chemistry |
| Wednesday, October 14 | | GC3 Member Discussion: Circular Economy |
| | | |
| Commercialization Series: | | |
| Tuesday, October 20 | | Investment Trends: Drivers for Green Ingredients & Products |
| Thursday, October 22 | | Bringing Sustainable Products to Market: Perspectives from the C-Suite |
| Wednesday, October 28 | | GC3 Member Discussion: Applying Pandemic Lessons |
Registration
Complimentary registration is now open for the GC3 Virtual Roundtable.

Sponsors
Host
Series Theme Sponsors
Sponsorship Opportunities
Sponsoring the GC3 Virtual Roundtable provides your company with an opportunity to demonstrate its commitment to green chemistry and raise its profile as a leader in sustainability to customers, suppliers, and other stakeholders. Check out our great sponsorship package that we have available. Sponsor spots are limited, please contact us today about sponsoring!
SILVER
SPONSOR