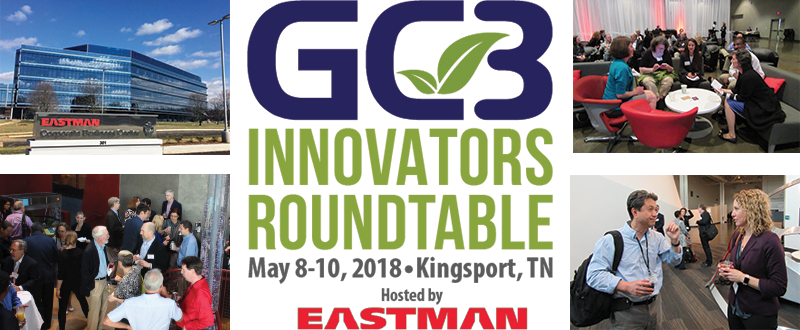 Thank you to everyone who attended the GC3 Innovators Roundtable in Kingsport, TN!
The 14th Annual Innovators Roundtable will be held in May 2019 in Cincinnati, OH.
Please check back shortly for dates.
Overview
The GC3 Innovators Roundtable is a dynamic forum for business leaders to exchange strategies and best practices on how to accelerate green chemistry innovation and adoption, and to network to form new partnerships and collaborative projects. The Roundtable presents a unique opportunity for businesses to connect across supply chains and sectors.
GC3 Members and non-members are welcome to attend. 
Featured Panels
The GC3 Collaborative Innovation Project on Preservatives: Outcomes, Lessons, and What's Next
Notes from the Field: Retailers Advancing Green Chemistry
Presidential Green Chemistry Awards: Learning from the Champions
Working across the Supply Chain to Achieve Commercial Success for Green Technologies
Finding Safer Chemical Alternatives: Resources for Selecting Green Chemistry Technologies
Keynote Speakers
David Golden, Eastman Chemical Company
Richard Northcote, Covestro
Nate Herman, American Apparel & Footwear Association
To see the full agenda, click here.
What People are Saying about the GC3 Innovators Roundtable:
Mike Elder, Novozymes:
"If you want to be where emerging technologies and industry needs meet, the GC3 Roundtable is the place to be."
Kevin Delaney, Costco:
"GC3 brings together organizations across supply chains, and different organizational areas (company, academic, NGO, and government), to provide wider perspective to any individual involved. There are collaborations that one learns about, or can develop, by participating with the GC3 that won't be found in any other context. These collaborations provide value to one's organization."
Kris Weigal, Resinate Materials Group:
"Every year I extract more and more value from the GC3 Roundtable. The networking with both large and small companies increases. Everyone has a genuine interest in collaborating and seeing each other succeed. It is a great opportunity to share best practices."
Ann Blake, Environmental & Public Health Consulting:
"The GC3 provides a forum like no other to discuss both visionary goals and the practical challenges in moving our economy to safer chemicals and materials. Being able to engage the entire supply chain in one space is incredibly productive and provides insights one cannot obtain in any other forum."

3rd Annual Green & Bio-Based Chemistry Technology Showcase & Networking Event
On the first day of the Roundtable, 10 innovative startup companies presented their technologies and companies on the main stage and network with large strategic companies. GC3 held this competition for startups to have this opportunity to pitch their sustainable chemicals, materials, products, and manufacturing technologies to large, strategic companies.  Applications were due by February 16, 2018; decisions were made in March and announced on April 17, 2018. See the list of winners here. 
Past Roundtable agendas and proceedings can be viewed here.
Thank You to Our 2018 Roundtable Sponsors 
If your company would like to become a Roundtable sponsor, we have some great sponsorship packages available. Contact us today!