If you are having difficulty viewing this message, click here to read it online.
November 2014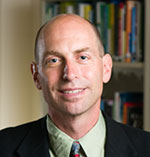 Dear Colleagues,
Thanksgiving is one of my favorite holidays, not only because of the time with family and the great food, but also because it gives me an opportunity to reflect on what I am grateful for.  I am exceptionally grateful and proud of the impact that the GC3 has had in mainstreaming green chemistry over the past decade.  Yes, the challenges to mainstreaming green chemistry research, development, adoption, and scaling are still large, but the opportunities for forward momentum are expanding.   The GC3 project group updates note some of those opportunities.  And thankfully, the community of companies, government agencies, and others dedicated to mainstreaming green chemistry is growing. 
We are pleased to announce our new GC3 members  — BEHR Paint, Best Buy, SABIC, Battelle, and Biomimicry 3.8 — and we hope to continue to expand this community with our new GC3 video.  Please watch it and forward it to colleagues in your own company and beyond.  We are very happy with the result and want to thank everyone who helped make it a success.
We will continue our outreach efforts with a series of webinars in the coming months:  On the Department of Commerce's Role in Mainstreaming Green Chemistry; on engaging CEOs in sustainability; on marketing green chemistry and green products; and on integrating green chemistry into purchasing decisions.  We hope these will provide important insights into ongoing GC3 projects and prime our members and others for productive discussions at the 10th Annual GC3 Innovators Roundtable at Nike World HQ, April 28 - 30, 2015. 
We have begun to  map out outcomes and themes for the Roundtable, including:
Reflections on the past 10 years of green chemistry and what the future holds
Incentivizing and investing in green chemistry
Disruptive green chemistry technology needs and technologies on the horizon
We look forward to developing these ideas through the webinars and project groups as we prepare for another great Roundtable.
Have a wonderful, relaxing Thanksgiving.
Sincerely,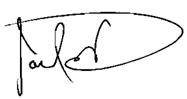 Joel Tickner, ScD, GC3 Director
RETAIL
Retailer Leadership Council (RLC) Update  - The RLC meets on a monthly basis via conference call to discuss different approaches retailers are using for sourcing and selling safer products.  The group is also continuing the dialogue it began with chemical manufacturers in May 2014.  In October, RLC members met with chemical manufacturers via conference call to discuss the following question:  What is your process, what factors do you consider, and what matters most to you when making R&D decisions related to alternatives for chemicals that are of concern?  

The dialogue will continue in December with a focus on:
What processes do chemical manufacturers use to ensure that new chemicals are safe for their intended applications?
How are chemical manufacturers applying green chemistry principles to their chemical syntheses and green engineering principles to their application?
How can chemical manufacturers work more effectively with retailers to communicate about green chemistry developments and technologies (with the understanding that IP may be a constraint early on in the process)?
In addition, the GC3 is planning a webinar for January 2015 that will be of particular interest to retailers entitled "Training and incentivizing merchants to purchase sustainable products."  Jason Pearson, executive director of the Sustainable Purchasing Leadership Council, and Rob Kaplan, sustainability director at Walmart, are featured presenters.

For further information about the Retailer Leadership Council, please contact Sally Edwards.
---
EDUCATION
The next webinar in the GC3 Green Chemistry Education Series will be held on December 16th at 2PM ET / 11AM PT.  Speakers from NatureWorks, Steelcase and Method will present a webinar on marketing green chemistry.

We are currently working with interested GC3 companies to develop the GC3 Student Fellows pilot program that we hope to kickoff in the summer of 2015.  The goal of the program is to bring together recent graduates and current graduate students from various disciplines to work with GC3 companies on projects involving green chemistry.  GC3 companies are currently working to define potential projects for the fellow while the program is being developed.  The fellows will receive green chemistry training at the GC3 roundtable and gain work experience.  This will strengthen them as applicants in the future workforce.

Our next project group call is this Friday (10/21) at 1PM ET / 10AM PT. Please email Saskia vanBergen for call in information and draft materials.
---
MAINSTREAMING
Several webinars are underway for the Mainstreaming Green Chemistry Project. The first will be on December 10th, with Blandine Trouille, Strategic Analyst, US Department of Commerce (DOC).  Ms. Trouille will be speaking on the DOC's role in supporting green chemistry.  Click here to register.

In early January, Donald Reed, a Managing Director in PriceWaterhouse Cooper's Sustainable Business Solutions Practice, will be speaking about engaging CEOs in sustainability. Mr. Reed will be drawing on PwC's annual surveys of industry leaders, including chemical company CEOs.  Registration will be available shortly on the GC3 website.
 
The survey of GC3 members conducted at the beginning of the year, and discussions at GC3 Roundtables, highlighted that building partnerships is an important issue for GC3 members.  To address this, we are planning a webinar, tentatively scheduled in early February that looks at how BASF is building partnerships with university researchers.  We'll be looking at other webinars on this topic as well.  If you have any suggestions for speakers on this or other topics, please contact Amy Perlmutter.
---
INNOVATION
For the GC3 Collaborative Innovation Project focused on preservatives in personal care products, we have been having one-on-one conversations with a number of personal care brands to learn about their challenges related to preservatives, to gauge their interest in participating in a collaborative project aimed at accelerating innovation toward new commercial preservatives, and to discuss specific tasks that could be focus of such a collaboration.  The response has been very positive.  Our aim for the first phase of the work is to convene a group of brands and to work with this group to develop some foundational elements for the project. We have developed a draft prospectus for the project laying out the goals, proposed tasks, role for GC3 and for personal care brands participating in the collaborative.  We will continue to have more one-on-one conversations and then convene our first call in December of '14 or January of '15. 
We were pleased to learn that the Green Chemistry & Commerce Council Innovation Portal was been selected to be in the second round of reviews for the LAUNCH Green Chemistry Challenge.  Monica and Joel were interviewed by members of the LAUNCH team in late October and await word on whether we made it to the final 10.  Fingers crossed!
If you would like more information on these projects, please email Monica Becker.
 

Best Buy Co.
Best Buy Co., Inc. is the world's largest consumer electronics retailer, offering advice, service and convenience – at competitive prices – to the consumers who visit its websites and stores more than 1.5 billion times each year.  In the United States, more than 70 percent of Americans are within 15 minutes of a Best Buy store.  Additionally, the company operates businesses in Canada, China and Mexico.  Altogether, Best Buy employs more than 140,000 people and earns annual revenues of more than $40 billion.

 
 
 
Biomimicry 3.8
Biomimicry 3.8 is the global leader in biomimicry innovation consulting, professional training, and speaking. By accessing the powerful intelligence embedded in 3.8 billion years of evolution, we have collaborated with innovation teams and individuals at more than 250 companies to achieve competitive advantages through biomimicry. Our consulting staff of biologists, chemists, and designers work with innovation and design teams to zero in on the relevant biological intelligence and unpack nature's proven processes and structures to inspire new solutions for the team's challenges. With Biomimicry 3.8 at your innovation "table", your project benefits from the knowledge of our staff and our network of leading biological specialists world-wide.
 
 
Stay tuned for profiles on SABIC, Behr and Battelle in our December newsletter.

Making Chemistry Green
November 9, 2014  |  The New York Times
EPA Calls for Nominations for 20th Annual Presidential Green Chemistry Challenge Award
November 13, 2014  |  EPA

GREEN CHEMISTRY RESEARCH NEWS
New process transforms wood, crop waste into valuable chemicals
November 3, 2014  |  University of Wisconsin-Madison

New 'smart material' holds promise
November 17, 2014  |  The SmartPhoenix 

UPCOMING GC3 EVENTS



ADVANCING THE DESIGN & ADOPTION OF
SAFER MATERIALS IN THE BUILDING SECTOR
Wednesday, December 3, 2014 from 8:30 AM to 6:30 PM (EST)
EPA Region I, Boston, MA
Hosted by U.S. Green Building Council & UMASS Lowell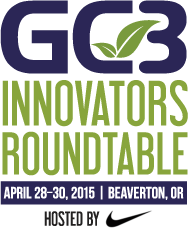 10th ANNUAL GC3 INNOVATORS ROUNDTABLE
April 28-30, 2015   |   NIKE, Beaverton, OR
Plan to attend this dynamic conference where over 150 sustainability leaders from a range of industry sectors, government, non-government organizations and universities will convene to share challenges and best practices and work on collaborative projects to advance green chemistry practices in industry.  The 10th Annual GC3 Innovators Roundtable will be hosted by NIKE in Beaverton, OR.
GERMAN EPA/GC3 EUROPEAN ROUNDTABLE ON SUSTAINABLE CHEMISTRY
September 24-25, 2015  |  Berlin Germany
Event details will be announced soon!

RELATED EVENTS OF INTEREST

2nd Annual Chemical Watch Regulatory Summit
December 2-3, 2014  |  Washington DC
BizNGO 2014 - 9th Annual Meeting
December 8-9, 2014  |  San Francisco, CA USA
Green Chemistry & Chemical Stewardship Certificate
The University of Washington Continuing Education online certificate in Green Chemistry & Chemical Stewardship is now open for enrollment!  There will be three online courses in the certificate but participates can sign up for a single course on a space available basis.

·         January 5 - March 13, 2015  |  Sustainability, Toxicology and Human Health
·         March 30 - June 5, 2015  |  Principles of Green Chemistry
·         June 22 - August 28, 2015  |  Assessment Tools for Safer Chemical Decisions
Next Generation Bio-Based & Sustainable Chemicals Summit
February 3-5, 2015  |  Ernest N. Morial Convention Center, New Orleans, LA

Midwest Bioeconomy & Safer Products Summit
Thursday, February 19, 2015  |  Pohlad Hall, Minneapolis Central Library, Minneapolis, MN
CONNECT WITH US

CONTENT
We're always looking for new content!  If you would like to submit an article or event that may be informative to other members of the GC3, please email it to GC3Info@greenchemistryandcommerce.org.
For more information on the work of the GC3, email us or call 978-934-2997.