The Green Chemistry & Commerce Council is a multi-stakeholder collaborative that drives the commercial adoption of green chemistry by catalyzing and guiding action across all industries, sectors and supply chains.
Retailer Leadership Council
Supply Chain Working Group
Sustainable Chemistry Alliance
Lastest GC3 News:
2022 GC3 Virtual Roundtable: Registration Now Open
Registration is now open for the 2022 GC3 Virtual Roundtable taking place on March 7-10, 2022. The goal of the GC3 Virtual Roundtable is to accelerate commercialization of safer, more sustainable chemistries through collaboration across sectors and with key government and not-for-profit partners. GC3 members and non-members are welcome to attend.
We're hiring!
The GC3 is looking for talented leaders ready to elevate the Green Chemistry & Commerce Council's impact in driving the commercialization and adoption of safer, more sustainable chemistry. We currently have openings for an Executive Director, Program Director, and PT Office Manager, check out our careers page to learn more!


New Report (November 2021):
Green Chemistry: A Strong Driver of Innovation, Growth, and Business Opportunity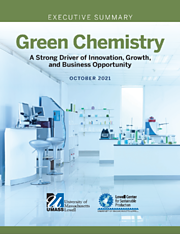 As investors and manufacturers seek new market opportunities for growth in the chemical sector, one of the portfolios attracting attention is the expanding portfolio of green chemicals—chemical products and processes that reduce or eliminate the use or generation of hazardous substances from manufacture through disposal. While green chemistry has traditionally represented a very small segment of the broader chemistry industry, there is emerging evidence that this segment is poised to grow rapidly. In this report, we examine the business case for investment in green chemistry on the part of manufacturers, retailers, brands, and R&D teams. We present compelling evidence through a multi-method approach, relying on case studies, consumer product sales trends, economic value-added analysis, and prior research that suggests the green chemicals and products sector is growing rapidly and will likely become a dominant element of major investment portfolios in the near future.
New Report (July 2021):
GC3 Recommended Framework for Ingredient Disclosure for Articles
GC3 member retailers are working to implement chemicals policies and strategies that require information about chemicals in articles to enable informed decision making about the products they source and sell. GC3 member suppliers recognize the need for sharing this information with their business customers but are understandably concerned about data security and the level of effort required to supply these data. The GC3 undertook this project to develop an initial framework for article ingredient disclosure that delineates a common set of data elements to include. This framework is designed to help guide communication and facilitate agreements between retailers and suppliers, as well as harmonize retailers' requests of suppliers.
GC3 Members