If you are having difficulty viewing this message, click here to read it online.
October 2014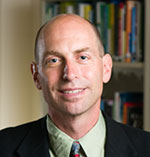 GC3 members are at the forefront of driving demand for, adopting, and making safer, more sustainable chemicals.  Last month, we highlighted the efforts of Target and Walmart to drive innovation in safer chemistry in the health and beauty supply chain.  Just last week, GC3 member, Solazyme, won the Presidential Green Chemistry Challenge Award in the greener synthetic pathways category.  Solazyme joins a number of other GC3 members in winning this prestigious award which recognizes "cutting-edge green chemistry technologies developed by industrial pioneers and leading scientists across the nation…contributing to the use of chemicals and products that are safer for people's health and the environment."  Jim Jones, EPA Assistant Administrator notes that "these scientists are helping to crack the code and solve some of the most challenging problems facing our modern society."
Also, on October 10, the National Academy of Sciences (NAS) released its long awaited Framework to Guide Selection of Chemical Alternatives.  GC3 members Seventh Generation, DuPont and HP, along with other GC3 collaborators (including myself) were members of the NAS panel.  The goal of the report is to provide a flexible framework to guide both the evaluation and design of chemical alternatives.   As noted in the last newsletter, GC3 members were also active in shaping, the 2014 Sustainable Chemistry Research and Development Act, which was introduced by Senator Chris Coons of Delaware earlier this month.   This all points to the leadership of the GC3 in shaping the green chemistry landscape.  As we move forward with the GC3 Agenda for Mainstreaming Green Chemistry, the Retail Leadership Council and our innovation and education projects over the coming year, we value our engagement with all of you to maximize the impact of our efforts.
We are excited to have brought on board our first GC3 green chemist, Anna Ivanova.  Anna recently finished her masters work at Carnegie Mellon and is already involved in shaping the next generation of green chemists through the newly formed Network of Early-career Sustainable Scientists and Engineers.  Anna will be closely involved in the GC3 Education Portal, summer fellows internship program, the Innovation Portal, and the Collaborative Innovation Project on Advancing Safer Preservatives in Personal Care Products.
Lastly, we are very happy to announce that our 10th Annual GC3 Innovators Roundtable will be held April 28-30, 2015 at Nike in Beaverton, Oregon.  We are thankful for the many years of leadership that Nike and John Frazier have provided to the GC3.
As always, thanks for all you do to mainstream green chemistry.
Sincerely,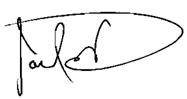 Joel Tickner, ScD
Director
RETAIL
Three members of this Retailer Leadership Council -- Kate Heiny from Target, Rob Kaplan from Walmart, and Roger McFadden from Staples -- were panelists at the recent RILA Sustainability Conference in Minneapolis.  Sally Edwards moderated the session, which was entitled "Retailer Initiatives for Sourcing & Selling Safer Products."  The session generated a lot of interest and was well received.
The RLC continues to meets on a monthly basis via conference call to discuss different approaches retailers are using for sourcing and selling safer products.  The group is continuing the dialogue it began with chemical manufacturers in May with a follow-up meeting via conference call in October.  Some key questions that the RLC is asking chemical manufacturers include:
What is your process, what factors do you consider, and what matters most to you when making R&D decisions related to alternatives for chemicals that are of concern?


How do you measure and assess potential brand, retailer and consumer demand and how does this information play into R&D and commercialization decisions?  Where are the points of interaction?


Do you currently have targeted green chemistry R&D programs to develop new alternatives for chemicals of concern in specific applications (e.g., Presidential Green Chemistry Award Submissions)? If so, for which chemicals or categories of chemicals and applications?


How do you determine which chemicals to scale up and commercialize following R & D?
In addition, the RLC is developing ideas for webinars that are of particular interest to retailers.  If you have ideas for webinar speakers, please email Sally Edwards.
---
EDUCATION
The education group is continuing to populate and build the GC3 Green Chemistry Education Portal.  We hope to have a revised version later this fall
We are looking for companies interested in participating on a call to discuss the idea of a GC3 Student Fellows program.  The goal of the program is to bring together upper level undergraduate and graduate students from various disciplines to work with GC3 companies.  The fellows would work on projects related to green chemistry such case study development, research projects, or mainstreaming materials for the GC3 member companies.
The initial call is scheduled for November 7th at noon eastern time. Please email Saskia vanBergen for call in information and draft materials.
---
MAINSTREAMING
The Mainstreaming Green Chemistry Project is integrating information received from our survey, interviews and other background research into a draft GC3 Mainstreaming Green Chemistry agenda that will be launched later this fall.   We are starting to plan webinars for this winter.   We would welcome your input on the topics we are considering, as well as suggestions for speakers. The topics were developed from ideas at the spring GC3 Roundtable, and from the Mainstreaming Green Chemistry Project Advisory Committee. We would appreciate it if you would go to this link by the end of October and answer a few short questions. It will take less than 60 seconds!
---
INNOVATION
We are continuing to build on input received from our September teleconference on the GC3 Innovation Portal and submitted an application for recognition from the USAID/NASA/Department of State/Nike LAUNCH program.  On September 22, we kicked off the development process for our new GC3 collaborative innovation project, focused on preservatives in personal care products. The slides presented on the call are in the member's area of the GC3 website. We are currently conducting one-on-one calls with companies to discuss the project and to get feedback on specific tasks. If you would like more information on the project, please email Monica Becker.
Congratulations to GC3 Member Solazyme!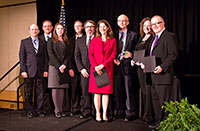 GC3 Member Solazyme, Inc. is a renewable oil and bioproducts company that transforms a range of low-cost, plant-based sugars into high-value oils. Solazyme's microalgae-based renewable oils and ingredients platform, used to produce high performing, healthy and environmentally-friendly products – from food and personal care to industrials and clean fuels –was recognized just last week with a Presidential Green Chemistry Challenge Award. Click here for more information.
Follow @Solazyme on Twitter.



How the Northwest is working to mainstream green chemistry
October 10, 2014  |  GreenBiz.com
Preventing occupational illnesses through safer chemical management
October 09, 2014  |  OSHA
Whole Foods to Rate Its Produce and Flowers for Environmental Impact
October 15, 2014  |  The New York Times
A Framework to Guide Selection of Chemical Alternatives
October 10, 2014  |  National Research Council
Missed our SINnovation event in Brussels yesterday? View filmed presentations here
October 08, 2014  |  ChemSec
Clorox Increasing Product Transparency with Mobile App, Ingredient Calculator
October 08, 2014  |  Sustainable Brands
How to make a better adhesive without the nasty chemicals
October 07, 2014  |  GreenBiz.com
More companies clean up with chemical leasing
October 03, 2014  |  GreenBiz.com
How leaders from Apple to ZDHC are opening up on chemicals
September 17, 2014  |  GreenBiz.com
UPCOMING GC3 EVENTS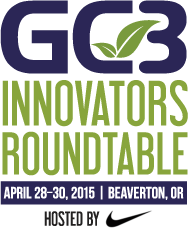 SAVE THE DATE! 


10th ANNUAL GC3 INNOVATORS ROUNDTABLE
April 28-30, 2015   |   NIKE, Beaverton, OR
Plan to attend this dynamic conference where over 150 sustainability leaders from a range of industry sectors, government, non-government organizations and universities will convene to share challenges and best practices and work on collaborative projects to advance green chemistry practices in industry.  The 10th Annual GC3 Innovators Roundtable will be hosted by NIKE in Beaverton, OR.
GERMAN EPA/GC3 EUROPEAN ROUNDTABLE ON SUSTAINABLE CHEMISTRY
September 24-25, 2015  |  Berlin Germany
Event details will be announced soon!

RELATED EVENTS OF INTEREST

Green Chemistry & Chemical Stewardship Certificate
The University of Washington Continuing Education online certificate in Green Chemistry & Chemical Stewardship is now open for enrollment!  There will be three online courses in the certificate but participates can sign up for a single course on a space available basis.

·         Sustainability, Toxicology and Human Health   |   January 5 - March 13, 2015
·         Principles of Green Chemistry   |   March 30 - June 5, 2015
·         Assessment Tools for Safer Chemical Decisions   |   June 22 - August 28, 2015

5th Safer Consumer Products Summit
October 22-24, 2014  |  San Francisco, CA USA
Greenbuild International Conference and Expo
Expo: October 22-23, 2014  |  Conference: October 22-24, 2014
Morial Convention Center, New Orleans, LA USA
Catalyzing Change: Northwest Green Chemistry Roundtable 2014
October 28, 2014  |  Greater Tacoma Convention and Trade Center, Tacoma, WA USA
Greenup - 2014 Michigan Green Chemistry and Engineering Conference
November 12, 2014  |  Michigan State University Kellog Center, East Lansing, Michigan
2nd Annual Chemical Watch Regulatory Summit
December 2-3, 2014  |  Washington DC
BizNGO 2014 - 9th Annual Meeting
December 8-9, 2014  |  San Francisco, CA USA
CONNECT WITH US

CONTENT


We're always looking for new content!  If you would like to submit an article or event that may be informative to other members of the GC3, please email it to GC3Info@greenchemistryandcommerce.org.
For more information on the work of the GC3, email us or call 978-934-2997.