If you are having difficulty viewing this message, click here to read it online.
August 2015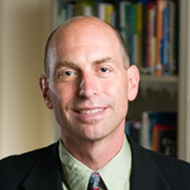 Dear Colleagues,


We hope you had a relaxing summer and have been able to share memorable experiences with family and friends.  Being on a three week cultural and wildlife safari in southern Africa provided me with many opportunities to reflect on how amazing and diverse the world is as well as how far we are from achieving an equitable, sustainable planet.  I sincerely hope our efforts to accelerate green chemistry can help solve major environmental and sustainability problems across the globe.  In fact, Elsevier is sponsoring a Green and Sustainable Chemistry Challenge to help stimulate development of technologies that support sustainability in the developing world.  Submissions for the 50,000 and 25,000 Euro prizes are due on September 14.
GC3 staff have been active this summer in research, outreach, and finishing GC3 publications and tools.  GC3 had a strong presence at the July Green Chemistry and Engineering Conference with an exhibit booth, demonstration of the GC3/ACS GCI Green Chemistry Innovation Portal, a poster, and a well-attended, lively reception for GC3 members and friends.  Earlier this month, the GC3 staff had its annual workplan retreat.  We mapped out an ambitious set of goals for each of the five major GC3 projects:  Mainstreaming Green Chemistry, the GC3/ACS GCI Innovation Portal, the Retailer Leadership Council, the Preservatives Collaborative Innovation Project, and the Green Chemistry Education project.  The workplans for these groups will include educational webinars, reports, outreach activities, and new web "portals".  Additionally, we will be undertaking some branding changes to ensure consistency in GC3's messages and a more user friendly website. Finally, based on input from our GC3 Advisory Committee, we are revising GC3 membership guidelines to better clarify GC3 member benefits and responsibilities.  As the GC3 grows in both size and breadth, we want to make sure the organization has the greatest impact on mainstreaming green chemistry.
Our two reports launched this spring - Making the Business and Economic Case for Safer Chemistry and Advancing Green Chemistry: Barriers to Adoption & Ways to Accelerate Green Chemistry in Supply Chains – have received very positive feedback and have been widely distributed.  We expect similar impact as we release our GC3 Agenda for Mainstreaming Green Chemistry early this fall.  GC3 has been active in shaping and will have a strong presence in two upcoming major conferences:  the Guardian Green Chemistry Conference on September 2 in New York City; and the German EPA and Ministry of Environment Sustainable Chemistry 2015 Conference in Berlin on September 24-25 (where we are also a co-sponsor).
We have a very active fall planned so please stay tuned for announcements of upcoming reports, webinars, and events.  And of course, we in the process of seeking early sponsors for our 2016, 11th Innovators Roundtable hosted by Seventh Generation, from May 24-26 in Burlington Vermont.


All the best,
Joel
MAINSTREAMING
The focus of the Mainstreaming Green Chemistry project for the past few months has been on completing the draft GC3 Agenda for Mainstreaming Green Chemistry, along with its companion Action Plan, and preparing for April's roundtable.
The Agenda to Mainstream Green Chemistry is going through final edits and will be available in early September.  We will plan a webinar around its release. The Mainstreaming Project Group Advisory Committee will also be meeting in early September to discuss structure and workplan for the coming year. Anyone interested in this project can contact Amy Perlmutter.

INNOVATION
The Innovation Group has two ongoing projects: the Green Chemistry Innovation Portal and the Collaborative Innovation Project on Preservatives in Personal Care & Household Products.
The Green Chemistry Innovation Portal ("The Portal")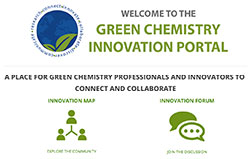 The Green Chemistry Innovation Portal made its debut at the GC&E Conference on July 14th to positive feedback from a range of companies, academics, and others in the green chemistry community. The Innovation Forum is now open for questions, discussions, and announcements on green chemistry research and innovation, and has been getting some early activity. One popular post is the ACS GCI's call for input from chemical and pharmaceutical manufacturers on its sustainable separations roadmap. In another post, a Ph.D. student asked for and received advice on courses for safer chemical design.
 
We want GC3 members and others to use and explore this tool for connecting those with green chemistry challenges to those with ideas or solutions.  If you are interested in being a portal contributor or answering questions related to your area of expertise, please email Anna Ivanova.
 
The Innovation Map has been expanding with the addition of NSF Centers for Chemical Innovation. Guidelines are being developed to standardize inclusion of organizations, and with them the map will continue to grow. If you want your organization on the map or to expand on information that is currently included, fill out this form.
 
In the coming months, we will be presenting the Innovation Portal and engaging companies, researchers, and others to make it a successful, interactive resource.  The Innovation Portal will only be successful if a diverse and active audience uses it.  Please sign up for the Innovation Portal mailing list to receive updates.
Collaborative Innovation Project on Preservatives in Personal Care & Household Products ("Collaborative Innovation Project")
We are pleased to announce that our group has released the Need Statement & Development Criteria for New Preservatives for Personal Care & Household Products, which was developed with contributions from all 12 participating companies:  Aubrey Organics, Aveda, BabyGanics, Beautycounter, Colgate Palmolive, Johnson & Johnson, Henkel, L'Oreal, Method, Procter & Gamble, Seventh Generation, and Unilever.  We are actively disseminating the document and are engaging in many conversations with companies – large and small – that are interested in developing technologies to meet this need.
Our conversations within our group and with open innovation service providers are generating significant interest and concrete design ideas for development of an open innovation project on preservatives.  We plan to recruit other companies to participate.
If you would like more information on this project, please email Monica Becker. 

EDUCATION
The Education Group is ramping up to the next year of our GC3 Fellows Program, which places qualified students into green chemistry internships for the summer. This provides GC3 members with the motivated, educated candidates they require, while also demonstrating industry demand for green chemistry to both businesses and universities. The pilot year of the GC3 Fellows Program has been very successful, with our first-ever GC3 intern working on a project at Hewlett Packard under the mentorship of Barbara Hanley. HP has stated that the GC3's handling of the recruitment, application, and screening helped them streamline and expedite the intern hiring process, providing a short-list of highly qualified candidates. We will be holding a call with interested parties in the next two weeks to discuss details of the upcoming 2016 Fellows Program. If you are interested in participating, please contact Saskia van Bergen.

The Education Portal is nearing completion, with a planned release in September. Additional webinars have been added to craft a curriculum adaptable to most professional skill sets. The final curriculum will range from an inspirational introduction to green chemistry by John Warner to technically-oriented webinars with practical advice and tools for safer chemical design.

The GC3 Education Group hosted a Life Cycle & Alternatives Assessment webinar on June 18th, as well as an introductory green chemistry webinar on July 21.

The next GC3 Education Group call is on August 28th at 1 pm ET. If you would like to participate, or would like more information on our ongoing projects, please contact Saskia van Bergen.

RETAILER LEADERSHIP COUNCIL (RLC)

The RLC continues to meets on a monthly basis via conference call to share ideas and discuss different approaches retailers are using for sourcing and selling safer products.  The group is continuing the dialogue it began in 2014 with chemical manufacturers AkzoNobel, BASF, Dow, DuPont, and Eastman.  A meeting to continue the dialogue is being planned for October 2015.
A webinar of particular interest to retailers is being planned for late October 2015.  Therese Holmgren, Chemical Specialist Team Manager, will give a presentation on IKEA's chemicals policy and its actions to substitute chemicals of high concern with safer alternatives.  Details will be forthcoming.
For further information about the Retailer Leadership Council, please contact Sally Edwards.
CONFERENCES
Register now!
Sustainable Chemistry: the way forward
September 24-25, 2015  |  Berlin, Germany
Hosted by the German Environmental Agency and co-organized by the GC3, this conference will bring together companies, government agencies, academics, and non-profits from Europe and the United States to discuss challenges and opportunities to accelerate sustainable chemistry at a global level.
Save the date!
11th Annual GC3 Innovators Roundtable
Sponsored by Seventh Generation
May 24-26, 2016  |  Hilton Burlington Hotel, Burlington, VT
GC3 IN THE NEWS

What will it take for brands to deliver on the promise of greener chemicals?
Safer chemicals are good for business, creating jobs and growth
Safer substitutes show growth potential

OTHER ARTICLES OF INTEREST
How Target Is Taking Sustainable Products Mainstream (and Working with Walmart)
'Regrettable substitutions' fail to knock hazardous chemicals out of products
Behind the Label: How Business Sees Opportunity in Safer Chemistry
The $1.1 trillion question: What's your chemical footprint?

REPORTS

Advancing Safer Chemicals in Products: The Key Role of Purchasing
The Lowell Center for Sustainable Production has just released, along with the Sustainable Purchasing Leadership Council, Responsible Purchasing Network, and Green Electronics Council, a new report entitled Advancing Safer Chemicals in Products: The Key Role of Purchasing.  This report presents six case studies of organizations taking leadership roles in identifying and screening out potentially toxic substances in the products they buy, and finding safer alternatives. The cases provide an overview of the effort, drivers, how organizations keep up with changing science, how they engage employees and suppliers, and lessons learned. A webinar on the subject will be held on September 30, 2015 at 2:00 pm ET.  Register today.

WEBINARS
Strategies and Tools for Purchasing Products with Safer Chemistries
September 20, 2015 at 2:00 pm ET

Life Cycle Assessment as a Green Chemistry Tool: How to use LCA as a resource for minimizing environmental and toxicological impacts
September 1, 2015 at 2 pm ET 
Green Chemistry Guide - Listen and Learn Webinar Series
Hosted by The City of Los Angeles, the National Pollution Prevention Roundtable (NPPR) and
the Western Sustainability and Pollution Prevention Roundtable (WSPPN)

CONFERENCES & EVENTS
Guardian Making Green Chemistry Mainstream Event
Joel Tickner, Monica Becker and Tess Fennelly will be presenting.
September 2, 2015  |  One UN New York Hotel, New York City
Sustainable Chemicals & Plastics Adoption & Applications Summit
September 1-3, 2015  |  San Diego Marriott Del Mar, San Diego, CA

2015 Michigan Green Chemistry and Engineering Conference
November 3-4, 2015  |  Ann Arbor, Michigan
Cradle to Cradle 2015 Product Symposium
November 13, 2015 |  The Conrad Hotel, New York City
Greenbuild International Conference & Expo
November 18-20, 2015 | Washington, DC
Frontiers in Green Materials
December 7, 2015  |  London, UK
Innovation Takes Root
March 30-April 1, 2016  |  Orlando World Center Marriot, Orlando, FL
20th Annual Green Chemistry & Engineering Conference
June 14-16, 2016  |  Portland, OR
For more information on the work of the GC3, email us or call 978-934-2997.