If you are having difficulty viewing this message, click here to read it online.
January 2015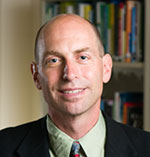 Dear Colleagues,
January is an important planning month for the GC3 as we begin to lay plans for the annual Innovators Roundtable.  Two weeks ago, on a frigid New England day with a warm fire crackling in the background, GC3 staff spent a productive day developing the desired outcomes and core agenda for our 10th Roundtable.  It is a joy to work with such a dedicated and inspired group of individuals who have helped build the GC3's cutting edge projects and the organization it is today.  Given that this is the GC3's 10th Roundtable, we built an agenda that would celebrate our successes but also reflect on where we need to go in the future, including the GC3's role.  We revisited the results of the survey we conducted prior to our initial 2005 meeting at the Darden School of Business entitled "Sustainable Business and Safer Chemistry Through the Supply Chain:  An Innovators Roundtable" as well the notes from that workshop.  We found that while much has changed in the past decade, many of the challenges companies face in accelerating green chemistry remain.  Hence, there is much still to be accomplished.  We identified five desired outcomes for the Roundtable, including:
Understanding how the world has changed over 10 years and what this implies for mainstreaming green chemistry
Identifying technology and business trends that may be significant for mainstreaming green chemistry
Understanding how to effectively use partnerships to advance green chemistry; and
Advancing cross-sectoral and supply chain collaboration around green chemistry.
 Panels, keynotes, and discussions, the hallmark of our GC3 Roundtables, will center around this general theme of where have we been, what have we achieved, and what still needs to be done.  A draft agenda for the Roundtable will be posted on the GC3 website in the coming week with additional details being posted over the coming month. 
Given space limitations and the importance of this Roundtable for the organization, registration will be open first to GC3 members with registration open for non-GC3 members starting in late February. 
We have a lot of work ahead to surpass the success of last year's Roundtable and we are confident that it will energize the GC3 for the coming years.
We look forward to seeing you there!


Sincerely,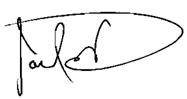 Joel Tickner, ScD, GC3 Director
PS - Look out for updates on Twitter from the LAUNCH Green Chemistry Forum where GC3 and GC3 Member BioAmber's innovations will be featured. Follow LAUNCH at @launchorg.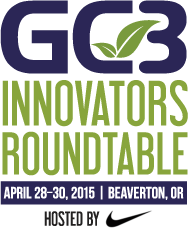 10th ANNUAL GC3 INNOVATORS ROUNDTABLE
April 28-30, 2015   |   NIKE World Headquarters, Beaverton, OR

Plan to attend this dynamic conference where over 150 sustainability leaders from a range of industry sectors, government, non-government organizations and universities will convene to share challenges and best practices and work on collaborative projects to advance green chemistry practices in industry.  The 10th Annual GC3 Innovators Roundtable will be hosted by NIKE in Beaverton, OR.  View the draft agenda.
Interesting in sponsoring?  Contact Jen Landry for opportunities.
RETAIL
The RLC continues to meets on a monthly basis via conference call to share ideas and discuss different approaches retailers are using for sourcing and selling safer products.  The group is continuing the dialogue it began with chemical manufacturers in May and continued in October and December 2014.  The RLC is currently identifying concrete projects that can serve to build stronger bridges between retailers, chemical manufacturers and ultimately brands.

A webinar is scheduled for February 4 at 12:00 P.M. EST that will be of particular interest to retailers entitled "Training and Incentivizing Merchants to purchase sustainable products."  Jason Pearson, Executive Director of the Sustainable Purchasing Leadership Council; Larry Garcia, Senior Environmental Analyst, Seattle City Light and Rob Kaplan, Sustainability Director at Walmart, are featured presenters. Register now!

For further information about the Retailer Leadership Council, please contact Sally Edwards at sally_edwards@uml.edu.
---
EDUCATION
We are developing the structure of GC3 Student Fellows pilot program that we aim to launch in the summer of 2015.  The goal of the program is to bring together recent graduates and current graduate students from various disciplines to work with GC3 companies on projects involving green chemistry.  We are working on identifying interested GC3 companies finalizing the available projects and hope to have the positions and application process posted next month.  The fellows will receive a green chemistry orientation at the GC3 roundtable and gain valuable work experience.

The next webinar in the GC3 Green Chemistry Education Series will be held with the RLC group on February 4th entitled Training and Incentivizing Merchants to Purchase Sustainable Products - Three Perspectives.  We are planning to schedule a webinar on regulations that affect product design in March.
Finally, we are building content for the GC3 Education Portal, which we hope to launch prior to the Innovators Roundtable.
 
---
MAINSTREAMING
Donald Reed, Managing Director for Sustainable Business Solutions at PriceWaterhouse Coopers (PwC), presented a webinar on CEO attitudes about sustainability and what this means for green chemistry.  Mr. Reed said that successful companies are innovating and growing around sustainability. These companies are more resilient to risk and make better long term decisions.  PwC conducts a series of international CEO surveys and Mr. Reed compared some of the attitudes of chemical company CEOs to CEOs as a whole.  Among other findings: CEOs are concerned about resource scarcity and the high and volatile prices of raw materials; most new chemical company innovations hinge on issues of sustainability; technology change, demographic shifts, and shifts in global economic priorities are other trends that CEOs are watching. An emerging issue on the CEO agenda is how to respond to investor questions about sustainability.  Mr. Reed concluded by saying that innovation, technology innovation, and people and skills are topics that can get the attention of CEOs.  Proponents of green chemistry should talk to CEOs through these lenses.

The audio from this webinar can be found on the GC3 website members section. Slides are available for non-members on the live site.

The importance and challenges of creating successful partnerships has come up in the survey of GC3 business members conducted last year and in discussions at the annual Roundtable. On March 26, Christopher Hewitt of BASF will be speaking on a webinar about BASF's approach to creating partnerships with universities, and discuss one such partnership.  Details will be coming soon.

In non-webinar news, planning is underway for a session on the GC3's mainstreaming work at the upcoming Roundtable. The GC3 Agenda for Mainstreaming Green Chemistry will be presented, along with research that the GC3 has been sponsoring on making the business case and on building demand for green chemistry products.

For those of you who would like to share a highlight of a product, process, project, or other innovation your company is working on to accelerate green chemistry for possible inclusion in the Mainstreaming Green Chemistry document and to share with other GC3 members, please go to this link, where we have three short questions that ask for very short answers!  Or, contact Amy Perlmutter via email or phone at 617-354-5456.
---
INNOVATION
We had a kick-off call on Jan. 14 for the GC3 collaborative innovation project on preservatives in personal care products.  Ten brands attended the call and will be participating in the project going forward.  We reviewed project goals, expectations, proposed tasks for group and decided to begin work on Task A -- develop and publicize a set(s) of criteria for new preservatives. 
As this newsletter goes to press, Monica and Joel are heading to the LAUNCH Forum -- at NASA's Kennedy Space Center -- to present the GC3 Innovation Portal (IP) initiative and engage a "council" of innovation experts in focused discussions on how we can structure and position the Portal for success.  (The GC3 IP was selected as a finalist for the LAUNCH Green Chemistry Challenge competition.)   In preparation, we have completely redesigned the on-line Portal interface with a new landing page and interactive on-line forum, which we will share shortly.  Our plan is to formally "launch" the Portal program this spring.
If you would like more information on these projects, please email Monica Becker.
BATTELLE
The people of Battelle apply science and technology to solving what matters most. Battelle conducts research and development, designs and manufactures products, and delivers critical services for government and commercial customers in the national security, health and life sciences, and energy and environmental industries.

Website: www.battelle.org



 

GREEN FUTURES


Green Futures provides strategic consulting services to deliver practical Sustainability and Environmental Health & Safety (EH&S) solutions for business. Backed by over 25 years of expertise and real-world experience, Green Futures has a proven track record of helping businesses and organizations pursue sustainability goals, manage risk, and successfully meet compliance obligations. Our services include sustainability reporting and metrics (GRI/UNGC), green chemistry, green buildings, energy/climate change, ISO 14001/OHSAS 18001, environmental compliance, and occupational safety & health."

Website: www.greenfutures.co
What will drive retail sustainability in 2015?
January 6, 2015  |  GreenBiz
Johnson & Johnson targets supply chain for health care sustainability
January 22, 2015  |  GreenBiz
Apache and ACS GCI collaborate to advance greener fracking fluids
January 16, 2015  |  GreenBiz
Surveys show mismatch between green chemistry and corporate agenda
January 22, 2015  |  Chemical Watch
UPCOMING WEBINARS
GC3 Retailer & Education Webinar Series:
Training and Incentivizing Merchants to Purchase Sustainable Products - Three Perspectives
Wednesday, February 6, 2015
12:00 p.m. – 1:00 p.m. Eastern Standard Time
Presenters: 
JASON PEARSON, Executive Director, Sustainable Purchasing Leadership Council
LARRY GARCIA, Senior Environmental Analyst, Seattle City Light
ROB KAPLAN, Sustainability Director, Walmart


RELATED EVENTS OF INTEREST

Webinar: Embedding Toxicology into the Chemistry Curriculum
Tuesday, January 27, 2015  |  2:00 PM - 3:00 PM EST 
Presenter: Dr. Nicholas Anastas, Senior Advisor for Green Chemistry, U.S. EPA, Office of Research and Development

Webinar: Teaching Toxicology: Model Courses and Novel Approaches
Tuesday, February 17, 2015  |  2:00 PM - 3:30 PM EST
Presenters: Dr. Marty Mulvihill (Berkeley Center for Green Chemistry), Dr. Doug Raynie (South Dakota State University) and Dr. John Warner (Warner Babcock Institute and Simmons College)

2015 Midwest Bioeconomy and Safer Products Summit
Thursday, February 19, 2015  |  Pohlad Hall, Minneapolis Central Library, Minneapolis, MN

International Symposium on Alternatives Assessment: Advancing Science and Practice
March 5-6, 2015  |  Natcher Conference Center, Bethesda, MD

3rd International Symposium on Green Chemistry
May 3-7, 2015  |  La Rochelle, France

Green Chemistry & Chemical Stewardship Certificate
The University of Washington Continuing Education online certificate in Green Chemistry & Chemical Stewardship is now open for enrollment!  There will be three online courses in the certificate but participates can sign up for a single course on a space available basis.

·         January 5 - March 13, 2015  |  Sustainability, Toxicology and Human Health
·         March 30 - June 5, 2015  |  Principles of Green Chemistry
·         June 22 - August 28, 2015  |  Assessment Tools for Safer Chemical Decisions
CONNECT WITH US

CONTENT
We're always looking for new content!  If you would like to submit an article, event or share a green chemistry activity that is happening within your company, please email GC3Info@greenchemistryandcommerce.org.
For more information on the work of the GC3, email us or call 978-934-2997.