If you are having difficulty viewing this message, click here to read it online.
June 2015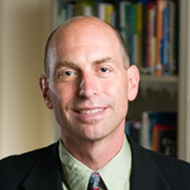 Dear Colleagues,
Summer is the time when GC3 staff reflect on accomplishments over the past year as well as input from our members at the Roundtable and work on outlining goals and plans for the coming year. The 10th Annual GC3 Innovators Roundtable gave us a significant amount of insight regarding future directions as we develop workplans for the 2015/2016 project year. The Roundtable was the biggest yet, with an exceptionally high level of enthusiasm and engagement; a testament to the high level of content, dialogue and networking.
We have updated the 2015 Roundtable website to include slides, summaries from each session, and a complete summary of the meeting.
As you know, we have been working hard on a series of reports to further the GC3 Agenda for Mainstreaming Green Chemistry:
The TruCost report - Making the Business and Economic Case for Safer Chemistry – was released in May with a webinar held on June 9. We are receiving very positive feedback on that document.
Today we are pleased to release a report that provides critical insights to our efforts to mainstream chemistry - Advancing Green Chemistry: Barriers to Adoption & Ways to Accelerate Green Chemistry in Supply Chains, written by supply chain experts T. Fennelly & Associates, Inc.  We will host a webinar presenting the report's findings and discuss next steps on July 23.
In late July, we will release the GC3's White Paper on Measuring Progress Towards Green Chemistry
We expect to launch the first version of the GC3 Agenda for Mainstreaming Green Chemistry with a series of briefings and presentations later this summer.
We are finalizing and will soon be releasing our Need Statement & Development Criteria for
New Preservatives for Personal Care & Household Products, for our first collaborative innovation project.
In addition to releasing these reports, we will be working this summer to launch the GC3/ACS Green Chemistry Innovation Portal, the GC3 Education Portal, as well as to make significant updates to our GC3 website and outreach materials to strengthen the GC3's impact. 
We will be exhibiting at the ACS Green Chemistry & Engineering Conference, July 14-16 in Bethesda, MD and hosting a get together of GC3 members and friends at Del Frisco's Grille (across the street from the conference hotel) on Tuesday, July 14 at 7:30 pm. Please visit the GC3 table, see a beta version and come socialize with us Tuesday night. Contact Monica Becker if you need more information.
Lastly, please save the date for the 11th Annual GC3 Innovators Roundtable, sponsored by Seventh Generation, to take place in beautiful Burlington, VT on May 24-26, 2016.
We look forward to working with you on an ambitious agenda to kick-off the GC3's second decade. Thanks for all of your contributions to the GC3's success.
Have a pleasant and relaxing summer!
Sincerely,
Joel Tickner
MAINSTREAMING
The focus of the Mainstreaming Green Chemistry project for the past few months has been on completing the draft GC3 Agenda for Mainstreaming Green Chemistry, along with its companion Action Plan, and preparing for April's roundtable.
An informative panel at the Roundtable spoke to different aspects of mainstreaming green chemistry. Ray Garant, Assistant Director for Public Policy at the American Chemical Society, provided a look back and a look forward at policy drivers of green chemistry and their impacts.  Tess Fennelly, president at T Fennelly & Associates Inc., presented the findings of her research on accelerators of green chemistry and supply chain misalignments that her firm conducted for the GC3.  Libby Bernick, Senior Vice President, North America at Trucost, addressed her firm's research on trends in the growth of safer chemistry, and 8 themes for making the business case.  Amy Perlmutter, Principal, Perlmutter Associates, and GC3 Mainstream Green Chemistry project lead, provided an overview of the strategies recommended in the upcoming GC3 Agenda for Mainstreaming Green Chemistry, and some of the key actions in the related Action Plan. The proceedings of this session can be found on the GC3 website, along with PowerPoint presentations.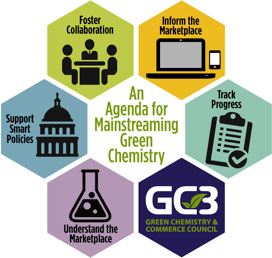 We are in the process of incorporating input from the roundtable and finalizing the GC3 Agenda for Mainstreaming Green Chemistry; it will be public later this summer. The Agenda incorporates learnings and recommendations from the Trucost and Fennelly reports, as well as literature reviews, interviews, and input from GC3 members via a survey conducted last year. The document lays out the imperative for green chemistry to be mainstreamed and identifies barriers and drivers. It recommends 5 Key Strategies for taking action:  Understand the Marketplace, Support Smart Policies, Foster Collaboration, Inform the Marketplace, and Track Progress. An accompanying action plan describes more than 20 activities the GC3 will take in the next five years that support these strategies and address identified barriers.
The GC3's mainstreaming project also has a new logo, reflecting the five strategies. 
GreenBiz published an article on the GC3's mainstreaming project in April in their Right Chemistry blog. 
INNOVATION
The Innovation Group has two ongoing projects: the Green Chemistry Innovation Portal and the Collaborative Innovation Project on Preservatives in Personal Care & Household Products.
The Green Chemistry Innovation Portal ("The Portal")
The Portal is an on-line platform for growing and connecting the green chemistry community – in industry and academia – and for solving green chemistry challenges. The Portal is being developed through a partnership between the GC3 and the American Chemistry Society's Green Chemistry Institute (ACS GCI). The current design for the Portal consists of two primary components: the Innovation Forum and the Innovation Map. The Innovation Forum will be an online community where professionals can discuss challenges and needs in green chemistry research and practice, with a flexible categorization system to allow users to easily find the topics they are interested in. The Forum will be open to any individual who creates a free account on the ACS Network. The GC3 will also offer to connect individuals and organizations that have specific needs to research groups, individuals, or companies that could address them.
The Green Chemistry Innovation Map is designed to be an entry point into the green chemistry community. We envision companies, researchers, and even job seekers accessing the map to identify organizations and individuals that are active in green chemistry research and practice. The map will show relationships between companies, organizations, and research groups, and help identify new opportunities for the community to expand by connecting in research that is adjacent to and synergistic with green chemistry. The Map will be open for all to view, and organizations can request to be added. 
We presented the latest Portal concept and design at the GC3 Roundtable and received excellent feedback from participants, including discussion of appropriate content for both the forum and map, what level of moderation would be most helpful, suggestions for growing the map through networking, and interest in crowd-sourced tracking of green chemistry innovations. For a full summary of the breakout session, see the Roundtable Session Summaries on our website
After gathering feedback on desired content and features from intended users of the Innovation Portal, we are currently implementing changes to both the map and the forum, with the goal of making the Portal inviting, feature-rich, and easy to use.
We will be demonstrating the beta version of the Portal at the ACS Green Chemistry & Engineering Conference, July 14 to 16 at our GC3 exhibit booth.
We are planning to fully launch the Portal in the fall.
If you would like more information on the Portal, please email Anna Ivanova.
Collaborative Innovation Project on Preservatives in Personal Care & Household Products ("Collaborative Innovation Project")
We are continuing our project, designed to meet two main goals:  1) To accelerate the commercialization of new, safe, effective, and cost competitive preservative systems for personal care and household products; and 2) To create a new model of pre-competitive collaboration whereby companies with common needs for new safe chemicals, materials, or other technologies, can accelerate the development and scale-up of these technologies. 
Our project group, consisting of representatives from:  Aubrey Organics, Aveda, BabyGanics, Beautycounter, Colgate Palmolive, Johnson & Johnson, Henkel, L'Oreal, Method, Procter & Gamble, Seventh Generation, and Unilever, is finalizing a document that articulates the need for new preservatives; highlights the significant demand represented by the companies in our group; and provides a set of detailed development criteria for new preservatives, including performance, human and environmental health and safety, regulatory and other business factors. 
When complete, we will disseminate the document via a dedicated GC3 webpage and use other outreach mechanisms with the aim of motivating and guiding relevant R&D and commercialization of safe preservatives within the chemical supplier, entrepreneurial, and academic communities. 
As a second major phase of our project, we have opened dialogues with several open innovation service providers to explore approaches to conducting a collaboratively sponsored challenge competition around preservatives.  We have invited several providers to present their approaches to our group and have convened a smaller Task Group to lead this effort.
If you would like more information on this project, please email Monica Becker.
EDUCATION
The GC3 Education Group is finalizing the GC3 Education Portal for a July release.  We held two webinars in June:  The Role of Policy in Green Chemistry held on June 16 and an introduction to Life Cycle and Alternative Assessment, is Thursday, June 18th.
We are happy to announce that the GC3 Fellows pilot program is proceeding as planned, with a highly-qualified candidate undergoing orientation at HP for his summer-long full-time internship. We have received great positive feedback from HP and hope to grow this program in 2016.  If you are interested in learning about or participating in the second year of the fellows program, please contact us. 
Thank you for your input at the Annual Roundtable.  Our next Education Group call is June 26th at 10 am.  If you would like more information on these projects or would like to participate, please email Saskia van Bergen.

RETAILER LEADERSHIP COUNCIL (RLC)

The RLC continues to meets on a monthly basis via conference call to share ideas and discuss different approaches retailers are using for sourcing and selling safer products.  The group is continuing the dialogue it began with chemical manufacturers in 2014 and held a productive meeting with representatives from AkzoNobel, BASF, Dow, DuPont, and Eastman in April 2015.
For further information about the Retailer Leadership Council, please email Sally Edwards.
WEBINARS
Register today!
Advancing Green Chemistry: Barriers to Adoption & Ways to Accelerate Green Chemistry in Supply Chains
Thursday, July 23, 2015 | 12:00 PM ET
CONFERENCES
Register now!
Sustainable Chemistry: The Way Forward
September 24-25, 2015  |  Berlin, Germany
Hosted by the German Environmental Agency and co-organized by the GC3, this conference will bring together companies, government agencies, academics, and non-profits from Europe and the United States to discuss challenges and opportunities to accelerate sustainable chemistry at a global level.
Save the date!
11th Annual GC3 Innovators Roundtable Sponsored by Seventh Generation
May 24-26, 2016  |  Burlington, VT
ARTICLES
Staples and Wegmans Win 2015 EPA Safer Choice Award
G7 leaders pledge to 'promote safe and sustainable supply chains'
Have surfers discovered the future of sustainable design?
Apple Environmental Responsibility website features new green chemistry section
CONFERENCES & EVENTS
Green Chemistry & Engineering Conference
July 14-16, 2015  |  Washington DC
GREEN CHEMISTRY GUIDE - Listen and Learn Webinar Series
Hosted by The City of Los Angeles, the National Pollution Prevention Roundtable (NPPR) and
the Western Sustainability and Pollution Prevention Roundtable (WSPPN)
Cradle to Cradle 2015 Product Symposium
Nov 13, 2015 |  The Conrad Hotel, New York City
Greenbuild International Conference & Expo
Nov 18-20, 2015 | Washington, DC
For more information on the work of the GC3, email us or call 978-934-2997.