Green & Bio-based Chemistry Startup Network
Creating an innovation ecosystem for green and bio-based chemistry technologies


The GC3 Startup Network is working to accelerate the development and market pull of green chemistry technologies. The GC3 has created a forum for green & bio-based chemistry startups to connect to larger GC3 member chemical suppliers, brands, retailers, and investors for partnerships and investments; and larger GC3 members are tapping into the startup network to identify new technologies and up-and-coming companies.

Join the Startup Network
As a member of the Startup Network, your company will be profiled on our member webpage and invited to participate in meetings, networking events, webinars, and social media campaigns. You will also become a member of the GC3 and receive full member benefits. Contact us to learn more.
The Strategic Connections Program
The GC3 Startup Network Strategic Connections Program leverages the broad and deep expertise of the GC3 community – startups and large companies – to provide timely, strategic advice and support for members of our Startup Network. We have selected a pool of experts who have a wide variety of relevant expertise and have agreed to assist our startups with directional advice and support on a variety of business and technical topics. Read more here.
Upcoming Webinar for the GC3 Startup Network:
AkzoNobel's Startup Challenge Imagine Chemistry: Advancing Sustainability Through Collaborative Innovation
Webinar: Tuesday, December 12 at 1:00 p.m. ET
Danny Haynes
Common Application Team Leader and Challenge Team Member Imagine Chemistry 2017, AkzoNobel
Jeremy Austin
Director, Business Development, Renmatix
In this webinar, presenters from AkzoNobel will provide an overview of the Imagine Chemistry program, how it works, winners from last year and debut the details on the challenge areas for the 2018 challenge. Presenters from Renmatix, a finalist in the 2017 challenge, and currently engaged in a joint development agreement with AkzoNobel, will discuss their experience and provide advice to startups for the 2018 edition. Read more.
Recent Events:
GC3 Networking Event @ Greenbuild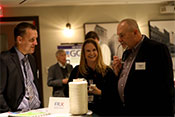 November 7, 2017 in Boston, MA
Over 100 people -- GC3 members and affiliates -- joined us for an invitation-only event for Greenbuild in downtown Boston, on November 7 at 7:30 pm. We showcased six green and bio-based chemistry startups and small companies with technologies relevant to the building sector.
Green & Bio-Based Chemistry Technology Showcase & Networking Event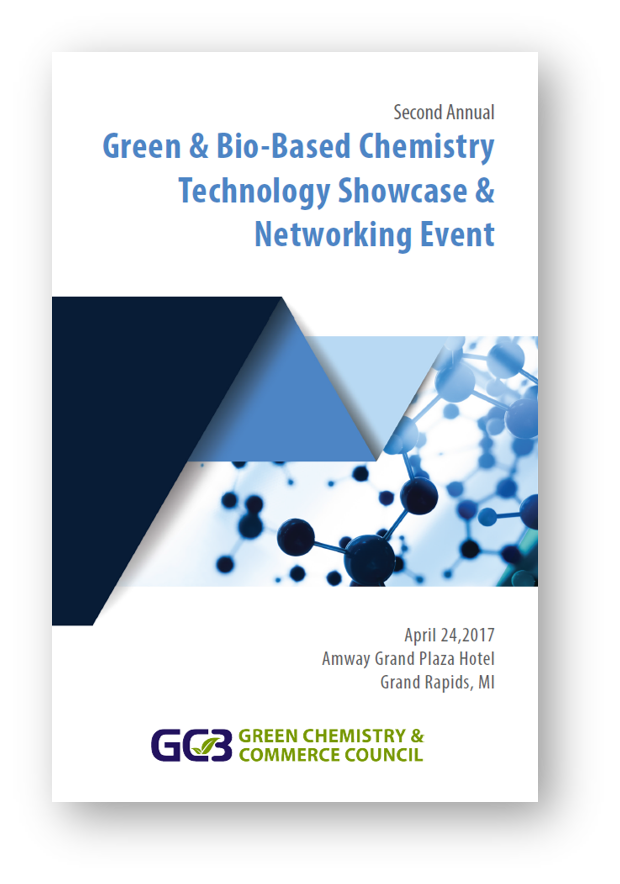 April 24, 2017 in Grand Rapids, MI

Ten startups and small companies presented their green & bio-based chemistry technologies and solutions. Five invited speakers from larger companies presented on strategic technology needs for their comapny and industry sector. Over 40 large chemical companies, brands, retailers, and investors were represented this half-day event. 
Workshop on Leveraging Partnerships to Accelerate Green & Bio-based Chemistry Innovation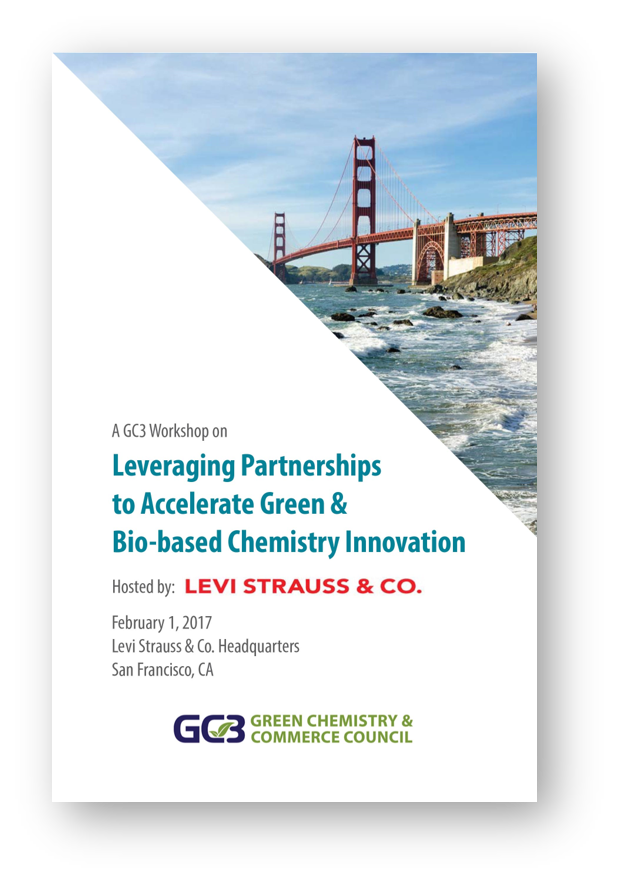 February 1, 2017 in San Francisco, CA
Hosted by Levi Strauss & Co
Twenty six startups, 20 large companies and investors, over 80 people total participated in a one-day workshop and networking event in San Francisco focused on partnering and investing.
View the program and participants
Green & Bio-Based Chemistry Startup Event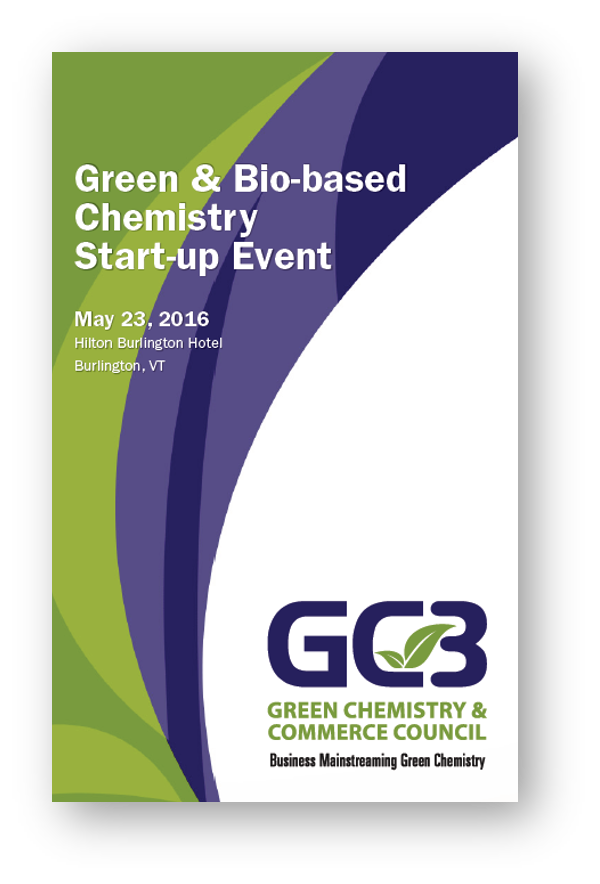 May 23, 2016 in Burlington, VT 
Hosted by Seventh Generation
Ten green & bio-based chemistry startup companies presented and networked with over 40 chemical companies, brands, retailers, and investors.
Recent Webinars:
Innovation Spotlight: Greener Flame Retardants
Webinar: Thursday, March 2 at 11:00 a.m. ET
Amit Paul, Managing Director, Paxymer AB
Jan-Pleun Lens, Vice President, Research and Applications, FRX Polymers
Paxymer and FRX Polymers have developed innovative flame retardants with unique performance and green chemistry benefits. Read more.
This is the first in a GC3 Startup Network webinar series which will highlight Startup Network member companies.
View Slides (pdf)  •  Watch Recording
Details on the GC3 Startup Network
A key strategy for advancing green chemistry in industry, as identified in the GC3's Agenda to Mainstream Green Chemistry, is supporting the development and adoption of  chemicals, materials, manufacturing  processes and products that adhere to one or more of the 12 Principles of Green Chemistry. Startups are an important driver of innovation, however many lack the connections to the strategic partners that they need for product evaluation, co-development, licensing, and investment.  The GC3 is uniquely positioned to connect startups with companies and other resources throughout the value chain and in many industry sectors.
Strategic Approach:
Leverage the diversity of the GC3 membership to connect innovative green chemistry startups with established chemical suppliers, brands, retailers, and investors who can serve as strategic partners to accelerate their development and growth
Increase the visibility of startup companies and create opportunities for suppliers, brands, retailers and investors to discover new ingredients and materials for their products and find new partnership and investment opportunities
Identify financial and other strategic resources for green and bio-based start-ups
Advance the discussion on how best to accelerate green chemistry innovation and the growth of innovative startups
Get involved:
For more information on how your company can participate in or otherwise support this network, contact Monica Becker.