If you are having difficulty viewing this message, click here to read it online.
January 2017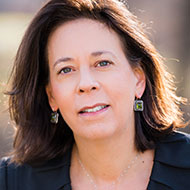 Dear GC3 Members,
As we turn the page to 2017, we want to take the opportunity to wish our GC3 members a happy, healthy and productive new year.
There are many changes ahead, but at least a few things remain constant: Our gratitude for your good work to advance green chemistry and for your support of the GC3, and our optimistic view that we are on a path to achieving great things together.
Our member-driven project groups are making significant progress on a number of new and ongoing initiatives, including the new GC3 Startup Network; collaborative crowdsource competition on preservatives; and green chemistry-focused education and training for retail merchants/buyers. And projects on green chemistry metrics, federal funding, and messaging are progressing well. We will have detailed updates on all of these efforts in the next full GC3 newsletter.
Plans for our 12th Annual GC3 Innovators Roundtable are taking shape, including informative sessions and great networking opportunities. Steelcase will be hosting the event at their headquarters in Grand Rapids, Michigan on April 25 – 27. Join us one day earlier on April 24 for our Second Annual GC3 Green & Bio-Based Chemistry Technology Showcase & Networking Event. Once again ten innovative startups will present their green and bio-based chemistry solutions. Registration for the Roundtable and the Showcase is currently open for GC3 members only.
Again, all the best for the new year!
Warmest regards,

Monica Becker
Co-Director, Green Chemistry & Commerce Council (GC3)
On behalf of the entire GC3 Staff – Joel Tickner (currently hiking in Patagonia), Sally Edwards, Amy Perlmutter, Laura Hoch, Jennifer Landry & Saskia Van Bergen
GC3 Innovators Roundtable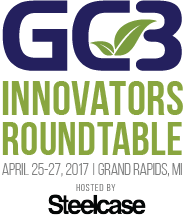 REGISTER FOR THE 2017 INNOVATORS ROUNDTABLE
Hosted by Steelcase in Grand Rapids, MI USA
April 25-27, 2017
The GC3 Innovators Roundtable is our major annual event where industry leaders present new business strategies, government leaders present emerging policy issues, and members network to discuss green chemistry challenges and solutions and design strategic projects for the coming year. The GC3 Roundtable is a unique opportunity for businesses to communicate across supply chains and sectors. Attendees focus on developing practical solutions in a collegial forum.
Registration is now open for GC3 members only!
Sponsorships
Interested in sponsoring?  Contact Jennifer Landry for sponsorship opportunities.
THE UNIVERSITY OF VERMONT'S SUSTAINABLE ENTREPRENEURSHIP MBA PROGRAM: REINVENTING BUSINESS EDUCATION
Thursday, January 26 at 12:00 p.m. ET
Over the past 25 years, most major business schools have added some kind of program focused on sustainability, corporate citizenship, or social entrepreneurship, though they are not integrated into the core DNA of the institution. The University of Vermont's Sustainability Entrepreneurship MBA (SEMBA) is unique in that it fundamentally reinvents business education and the MBA degree to address the urgent sustainability challenges we face in the 21st century. The curriculum is focused 100% on sustainable innovation and entrepreneurship. In this webinar, Professor Hart will describe the design and significance of the SEMBA -- a 12 month, AACSB-accredited program focused on developing the next generation of business leaders who will innovate enterprises to move us more rapidly toward a sustainable world. Vinca Krajewski, a SEMBA graduate and currently Associate Brand Manager at Seventh Generation, will describe her experience in the program and how it has uniquely prepared her to be a changemaker for sustainable innovation.
For more information on the work of the GC3, email us or call 978-934-2997.