If you are having difficulty viewing this message, click here to read it online.
February 2016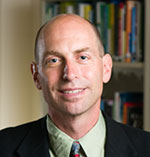 Dear Colleagues,
With this GC3 newsletter, we are transitioning to a slightly different format.  Every quarter, we will issue our regular newsletter that provides detailed project updates, news, and information about events.  Every other month, we will publish a short newsletter with important news and events from the GC3. For GC3 members only, we have recently instituted quarterly Member Update Calls as an opportunity for members to more effectively engage in GC3 projects and strategic research initiatives, and provide input on organizational direction. Our first Member Update call was held on February 10 with more than 50 participants.  We encourage you to join the GC3 to take advance of these Member only opportunities.
The GC3 has been extremely active in the past two months, as it begins to implement strategies as envisioned in its Agenda to Mainstream Green Chemistry (you can view the agenda and background information, including a generic press release and news articles about the Agenda).  These activities, described in detail below include:
Finally, we are working creating a dynamic and informative agenda for our 11th Annual GC3 Innovators Roundtable.  Registration for GC3 Members is now open!  We are actively seeking sponsors for this year's roundtable.  GC3 Roundtable Sponsors are recognized as leaders in the Green Chemistry Field.
We are delighted to welcome our new Technical Fellow, Laura Hoch, PhD to the GC3.  Laura recently finished a PhD in Materials Chemistry at the University of Toronto where she organized a student green chemistry effort and has been active in engaging young sustainability-oriented chemists globally.  Anna Ivanova, our chemist who was instrumental in developing the Innovation Portal and other projects is moving to England to start a PhD program in Chemistry at York University, a leading European institution in Green Chemistry.  We wish Anna all the best in her future endeavors.
As you can see, the GC3 is engaged in a number of high profile projects. If you are not currently a GC3 Member, we welcome you to join us in helping to accelerate research, development and adoption of green chemistry solutions moving forward.

All the best,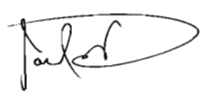 Joel Tickner, GC3 Director
RETAILER LEADERSHIP COUNCIL (RLC)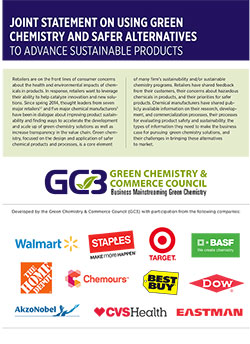 GC3's Retailer Leadership Council (RLC) has just published the Joint Statement on using Green Chemistry and Safer Alternatives to Advance Sustainable Products.  The RLC was formed in December 2013 to promote safer chemicals, materials and products across retail supply chains.  RLC members include: Best Buy, CVS Health, Home Depot, Lowe's, Staples, Target, and Walmart.  Since 2014, the RLC has been engaged in a dialogue with five major chemical manufacturers - including Akzo Nobel, BASF, Chemours, Dow, and Eastman - to better understand challenges and opportunities these two ends of the value chain face in advancing green chemistry solutions.  These companies have engaged in an extremely open, cooperative and productive discussion about improving product sustainability and finding ways to accelerate the development and scale up of green chemistry solutions as well as increase transparency in the value chain.  The Joint Statement represents the outcomes of this collaboration to date. The GC3 anticipates that the Joint Statement will serve as a catalyst for positive action throughout the value chain and hopes that this type of dialogue will be a model for future supply chain collaborations.

For further information about the Retailer Leadership Council, please contact Sally Edwards.



MAINSTREAMING
The GC3 officially released the Agenda to Mainstream Green Chemistry at a Congressional Briefing hosted by the GC3, the American Chemical Society, the American Sustainable Business Council and the Office of Senator Chris Coons on January 13.  More than 50 people attended, ranging from Congressional staff, to companies and trade associations to non-profits.  We also met with House of Representatives Staff to discuss the importance of green chemistry provisions in Congressional Conference Committee discussions about TSCA reform. The GC3 worked closely with ACS and Senator Coons' office to insert language establishing an interagency taskforce and development of a national sustainable chemistry strategy in the Frank Lautenberg Chemical Safety for the 21st Century Act that passed the Senate.  We also met with directors at the National Science Foundation to discuss the importance of continued support for the SusChem Research Program which GC3 and ACS have strongly supported.  Finally, in late January the GC3 hosted a webinar to present the Agenda to The Mainstream Green Chemistry and discuss its application.
Please contact Amy Perlmutter if you would like to discuss any of the topics above.


GREEN CHEMISTRTY INNOVATION PORTAL

In late January, we hosted the second Ask the Innovators event on the Green Chemistry Innovation Portal, a collaboration of the GC3 and the ACS Green Chemistry Institute.  This on-line discussion, entitled "How Green is your Raincoat", explored the challenges around identifying green chemistry solutions for Durable Water Repellant technologies.  This vibrant discussion, which attracted more than 2,000 views (you can view the discussion here https://communities.acs.org/thread/8934), will become a regular feature of the Portal, which has seen increasing traffic over the past few months.  We encourage you to participate in this growing solutions community.  Our new GC3 Technical Fellow, Dr. Laura Hoch, recently posted a Blog about the Portal on the ACS GCI Nexus Blog.
If you would like more information on these projects, please email Monica Becker.
GC3 INNOVATORS ROUNDTABLE
May 24-26, 2016   |   Hilton Burlington Hotel, Burlington, VT, USA


Sponsored by Seventh Generation

Plan to attend this dynamic conference where over 170 sustainability leaders from a range of industry sectors, government, non-government organizations and universities will convene to share challenges and best practices and work on collaborative projects to advance green chemistry practices in industry.  The 11th Annual GC3 Innovators Roundtable will be hosted by Seventh Generation at the Hilton Burlington Hotel in Burlington, Vermont. 

VIEW AGENDA
The Roundtable agenda is available online.

REGISTER
Registration is now available to members only and will open to non-members on March 1. Register today!

VENUE
Book your reservation at the Hilton Burlington Hotel by calling +1-800-445-8667 and asking for the the "GC3" room rate. 


SPONSORSHIPS
Interesting in sponsoring?  Contact Jen Landry for opportunities.
UPCOMING WEBINAR

Marks & Spencer – The Journey to Accelerate Clean Chemistry
Time: Wednesday, March 23, 2016 at 12PM ET
Speaker: Phil Townsend, Sustainable Raw Materials Specialist, Marks and Spencer Plc
Environmental and chemical compliance has been at the heart of the Marks & Spencer (M&S) clothing business for many years. The spotlight on environmental stewardship and responsible manufacturing is becoming increasingly magnified with pressure from NGOs, the media, and governments. M&S began its journey in this space back in the late 1990s and is continuing to evolve its Environmental and Chemical policy. In recent years M&S has joined forces with other brands and retailers to collaborate as part of Zero Discharge of Hazardous Chemicals (ZDHC).  In this webinar, Phil Townsend, Sustainable Raw Materials Specialist, will describe M & S efforts to accelerate clean chemistry in its global supply chains.
ARTICLES

How HP and Dell are reducing the toxics in their electronics
The real key to remaking manufacturing: chemistry
Senator uses industry roots to prod companies to do better

EVENTS
Green Chemistry & Engineering Conference
Hosted by ACS Green Chemistry Institute
June 14-16, 2016  |  Portland, OR

Greenbuild International Conference and Expo
October 5-7, 2016  |  Los Angeles, CA
For more information on the work of the GC3, email us or call 978-934-2997.