GC3 Retailer Leadership Council
Purpose

The GC3 Retailer Leadership Council (RLC) was formed in December 2013.  Its mission is to promote safer chemicals, materials and products across retail supply and value chains.
RLC members are members of the GC3 and include: Amazon, Best Buy, CVS Health, Home Depot, Kingfisher, Lowe's, Staples, Target, and Walmart. These retail leaders work proactively to accomplish the following:
develop and implement chemicals policies
understand what chemicals are in their products
engage their suppliers in improving chemicals management
identify and implement safer alternatives to chemicals of concern
educate their customers 
Each of the companies involved is on its own journey and at different stages in its product sustainability program. All share a commitment to having an open dialogue around five key areas to promote green chemistry research, development, and adoption.
The RLC is designed to be an active learning community, so it meets monthly via conference call and yearly in person at the GC3 Innovators Roundtable. RLC members members share best practices, challenges, and lessons learned, and they discover the latest resources available to assist retailers in implementing their chemicals management programs.
The Joint Statement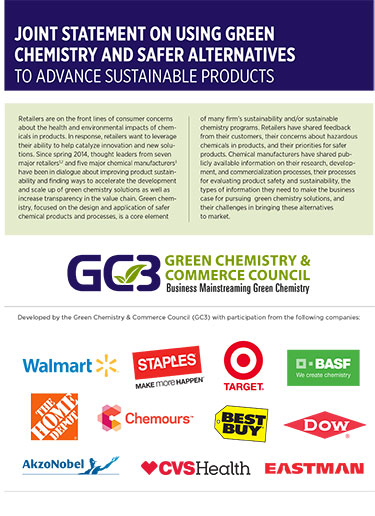 From 2014 - 2016, the RLC  engaged in a regular dialogue with five major chemical manufacturers: Akzo Nobel, BASF, Chemours, Dow, and Eastman. This dialogue resulted in the publication of the Joint Statement on using Green Chemistry and Safer Alternatives to Advance Sustainable Products, which was signed by all eleven participating companies.
Since that time, each company has been working to implement the five elements of the Statement. Retailers of consumer products often receive questions and feedback from customers regarding the safety and identity of chemicals in consumer products. To effectively address these questions and concerns from their customers, thought leaders from seven major retailers and five major chemical manufacturers have been in dialogue about improving product sustainability and finding ways to accelerate the development and scale up of green chemistry solutions and increase transparency in the value chain.
Retailer Tools for Safer Chemistry
The GC3 created the "Retailer Portal: Tools to Evaluate Chemical Ingredients in Products" in 2011 as a database of tools retailers can use to evaluate chemicals and products for potential human health and environmental impacts and identify safer chemicals, materials and products.  The GC3 updated and relaunched the database in 2016 as Retailer Tools for Safer Chemistry.
Background
Retailers play a key role in the supply chain as the interface between product manufacturers and customers.  They face challenges in gathering information about chemicals in products, determining whether ingredients are of potential concern to human health and the environment, and finding safer alternatives to ensure that the products they source and sell are effective and meet customer demand.
Given the unique position of retailers in the supply chain, the GC3 formed a Retailer Work Group in 2009 to better understand challenges and opportunities for retailers in promoting safer chemicals, materials, and products.
To serve the needs of this group the GC3 prepared the report Best Practices in Product Chemicals Management in the Retail Industry, created the Retailer Portal: Tools to Evaluate Chemical Ingredients in Products and held two national meetings for retailers (2011 and 2013). Following the Second National Summit for Retailers, the GC3 created the RLC. 
For more information on the GC3 Retailer Leadership Council, contact Sally Edwards.