If you are having difficulty viewing this message, click here to read it online.
December 2017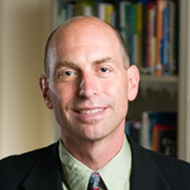 Dear Colleagues,
The GC3 is at a crossroads. With over 120 members, representing a wide range of industry sectors, the entire value chain, and an estimated economic value in the trillions of dollars, the GC3 is now recognized as the preeminent organization supporting supply chain collaboration, collaborative innovation and policy driving green chemistry practices in industry. The field of green chemistry, and in particular supply chain and cross-sectoral collaboration to drive green chemistry innovation, have expanded significantly in recent years. How can and should the GC3 grow to support and magnify these efforts? This was the starting point for our November GC3 Advisory Committee retreat. At the retreat, we discussed how to focus our core "platforms" – supply chain engagement, collaborative innovation, and policy advocacy – to more effectively involve current GC3 members as well as increase membership and impact. We also identified new staffing and organizational structure needs to support this growth.
Over the coming months, we will be developing a GC3 strategic plan to outline how we will strengthen our programs and organization to reach our overall goal, to mainstream green chemistry. We look forward to working with our members and other stakeholders to further understand their needs and opportunities moving forward. With our growth in mind, we are very pleased to announce two new members of our team. Julie Manley will be serving as Startup Network Coordinator and Joy Reo will be the GC3's Communications Specialist. Many of you know Julie, founder of Guiding Green and the highly-regarded facilitator of the ACS Green Chemistry Institute Roundtables. Joy is local to the area and has more than 20 years of communications and marketing experience in the private and non-profit sectors, most recently through her own communications firm. Additionally, we have hired Michele Jalbert and Michael Parr, seasoned government affairs and public policy experts, to launch the GC3's Sustainable Chemistry Alliance (see below). Michele brings decades of experience in both the private sector and on Capitol Hill and Michael almost thirty years with DuPont, with much of his career leading environment and chemicals government affairs efforts in Washington.
We are busy working to finalize the agenda for the GC3 Innovators Roundtable, hosted by Eastman, in Kingsport, TN. Registration will be opening up right after the new year and will be limited, so please register early. Also, we encourage you to be a sponsor for this year's Roundtable (particularly if you have end of year available funds), increasing your company's visibility as a green chemistry champion.
Finally, we would like to thank two colleagues who have recently left the GC3: Laura Hoch and Rich Liroff. Laura, our wonderful and always positive Technical Fellow, accepted a fantastic opportunity at Patagonia. Rich, who I've known for more than 20 years, is one of our first GC3 Advisory Committee members and champions, founder of the Investor Environmental Health Network, and a recognized leader in building the movement to raise attention to endocrine disrupting chemicals. Rich is retiring to enjoy the next phase of his life. Congratulations and thanks for all of your contributions Rich!
We wish all of you a healthy and relaxing holiday season and look forward to working with you in 2018.
Sincerely,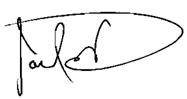 Joel Tickner, Director
GC3 Sustainable Chemistry Alliance
The GC3 has played an important role over the years in supporting policies that advance green chemistry R&D and scale, including work with the American Chemical Society to place language in the 2010 America COMPETES Act that established the National Science Foundation's SusChem Program. After discussion with GC3 members and staff in federal agencies and Congress, the GC3 is launching The Sustainable Chemistry Alliance, a business coalition to advocate for public policies that increase US sustainable chemistry research, innovation, development, production and use. The Alliance will exclusively focus on a constructive agenda to expand the green chemistry market.
The Sustainable Chemistry Alliance will provide a strong, diverse and credible business voice for policies that support innovation and growth in US manufacturing of more sustainable chemistries and products employing these chemistries. Our research shows this approach can be particularly effective in the current political environment. The Alliance will focus on two areas: protecting programs that support green chemistry innovation; and advocating for new initiatives.
Without a credible business voice advocating for them, existing safer and sustainable chemistry programs are currently at risk of defunding in the federal budget process, including DOE and USDA grants, loans and other financial support for research, development; marketing, recognition, and leadership programs such as Safer Choice and Biopreferred; and basic and collaborative research programs at the National Science Foundation; National Institutes of Health, and EPA. Importantly, additional policies (at both the federal level and in key "bellweather" states) can also both reduce the cost of early stage R&D and product development and can help expand market demand for sustainable chemistry products. These policies include: tax incentives, e.g. R&D, plant construction and early stage production credits; funding mechanisms for development activities and plant construction; and preferred purchasing of sustainable chemistry products by federal government and infrastructure projects.
These types of policies will only be considered by policymakers if there is a strong, diverse business coalition, such as the Sustainable Chemistry Alliance, advocating for them. For more information or to join, please contact Joel Tickner.
The GC3 Startup Network has grown to 25 startups and we are continuing to grow our membership and program offerings.  The Strategic Connections Program (our mentoring program) is off and running and we have had several productive engagements between startups and experts in our database of over 35 experts.  The topics addressed so far were:  Financing strategies to ramp up production while minimizing the risk of idle capital investments if projections do not materialize; how to move from free joint development to cost-shared joint development with potential customers; and structuring technology licensing agreements.  We encourage other startups to take advantage of this great resource.
We are about to launch our first Call for Innovators to select the 10 startups for our next Technology Showcase, on May 8 at the GC3 Roundtable at Eastman Chemical.  In an effort to better match the technology offerings of the startups with the needs of our GC3 members, we queried our large corporate members and received responses from fifteen companies on their green chemistry technology needs.  Those needs will be the technology focus areas in our Call for Innovators, and they fall into categories including:  adhesives, coating technologies, corrosion Inhibitors, fabric finishes, polyurethanes, raw materials for formulated consumer products (including personal care products), and solvents. 
Please mark your calendars for the Tech Showcase on May 8 at Eastman Chemical in Kingsport, TN!
We would like to welcome the follow new member companies into the GC3! 
 
 
 
 
 
 
 
 
 
 
 
Innoverda            
 
 
 
 
 
 
 
 
 
 
 
Novomer         
 
 
 
 
 
 
 
 
xF Technologies Inc.     
 

Congratulations to GC3 members and other companies that worked on the passage of California 
SB-258, the Cleaning Product Right to Know Act of 2017! 
 
 
 
Beautycounter
Breast Cancer Prevention Partners
Center for Environmental Health 


 
 
 
 
City of San Francisco,
Dept. of the Environment
RB
P&G
 
 
 
 
SC Johnson
Seventh Generation
Unilever
 
GC3 Innovators Roundtable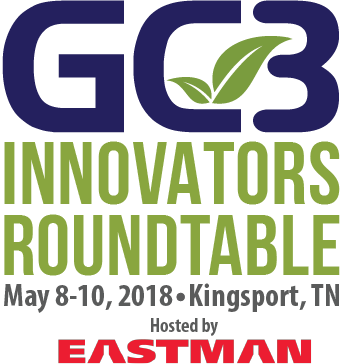 SAVE THE DATE - 2018 GC3 INNOVATORS ROUNDTABLE
Hosted by Eastman Chemical Company in Kingsport, TN
May 8-10, 2018
The GC3 Innovators Roundtable is our major annual event where industry leaders present new business strategies, government leaders present emerging policy issues, and members network to discuss green chemistry challenges and solutions and design strategic projects for the coming year. The GC3 Roundtable is a unique opportunity for businesses to communicate across supply chains and sectors. 

SPONSORSHIP OPPORTUNITIES

Sponsoring the GC3 Roundtable provides your company with an opportunity to demonstrate its commitment to green chemistry and raise its profile as a leader in sustainability to customers, suppliers, and other stakeholders. We have some great sponsorship packages available. Contact us today about sponsoring the GC3 Innovators Roundtable!
GC3 Webinar:
Tue, Jan 16, 2018 12:00 pm – 1:00 PM EST
The Chemical Angel Network
The Chemical Angel Network provides a source of capital for early stage firms that converge with the chemical sector in the materials, measurement and manufacturing space. Many of these companies have had a green chemistry focus from Connora and their technology for recycling thermoset plastics to SioTex and their process for conversion of waste rice hulls to fumed silica.
In this webinar, Mark Vreeke, co-founder of Chemical Angel Network will give an overview of the Network and how it works, describe several of the Network's investments and answer your questions on the Network and angel investing in general.
Other events of interest:
Transitioning to Safer Chemicals
This 1.5 day course will provide participants with hands-on experience and information about the process for transitioning to safer chemicals, as well as the key methods, tools, and databases that can assist in this process. More specifically, the course will guide participants through OSHA's seven-step substitution planning process for understanding and evaluating chemical use, identifying and assessing alternatives, and implementing those alternatives. Presented by OSHA and University of Washington.
February 1-2, 2018 in Seattle
Register
May 7-8, 2018 in Portland
Register
September 5-6, 2018 in Seattle
Register
Home Depot is Removing Formaldehyde as Part of Push to Go Green 
The Right Chemistry: Valspar: How we engaged stakeholders to solve the BPA dilemma
New molecules, innovation, value
Costco works with green centre on chemical management
For more information on the work of the GC3, email us or call 978-934-2997.