Commercialization Hub
Join the GC3 Commercialization Hub Pilot Project: Indication of interest due 12/3
The GC3 recently completed a transformational strategic planning process to leverage our unique role in bringing together the entire value chain, with a clear focus on actively driving commercialization of safer, more sustainable chemistry. One of the central elements of our new strategy is the establishment of the "Commercialization Hub" to accelerate the pace and scale of commercialization.
We have taken the last several months to better understand the needs of member organizations and the market related to collaborative commercialization models. We explored innovation priorities of GC3 members that were ripe for a collaborative commercialization effort and decided that a continuation of our GC3 Preservatives Challenge made the most sense given the continued technology needs for safe and effective preservation systems for consumer products. We have spent several months leveraging the learnings from the GC3 Preservatives Challenge to help shape the early concepts for the Commercialization Hub- which we are pleased to announce will be tested through a pilot project focused on commercialization of new product preservation solutions beginning in Q1 2022 building.
Following a proven model of matching new technology providers with potential down-stream partners and investors (eg a "shark tank" model); suppliers of new and existing preservation solutions that meet GC3 criteria will be provided an opportunity to pitch their technology to a group of interested down-stream partners (e.g. brands, formulators, retailers, investors) to determine if there is a strong connection between the technology and the down-stream needs. However, unlike the Preservatives Challenge, this new process will primarily focus on technologies that have moved beyond the initial ideation and prototyping stages to those further along in the commercialization process - but yet needing additional in-kind, financial, or other support or clear demand alignment to drive them through to final market launch and scale.
GC3's role initially will be to facilitate the process and provide the forum for the "shark tank" sessions and research and engagements to address barriers to commercialization, with ultimate decisions on collaboration partnerships and deal structures left to the matched session participants.
Interested Suppliers & Partners
Interested suppliers and down-stream partners will be required to submit a pilot project application which will be used to evaluate and select the most relevant candidates on both sides of the pilot project.
If you are interested, please submit your indication of interest by completing one of the applications below:
* Additionally, suppliers of alternative preservation solutions are asked to complete the self-assessment of their technology's fit against the "Development Criteria for New Preservatives for Personal Care & Household Products"- originally created during the Preservatives Challenge. Please forward completed self-assessments to gc3info@greenchemistryandcommerce.org.

All on-line applications must be submitted by Friday, December 3rd. Applications will be reviewed by a small committee convened by the GC3. Notification to selected suppliers and down-stream partners will be completed by December 31st, with the event taking place in January or February 2022.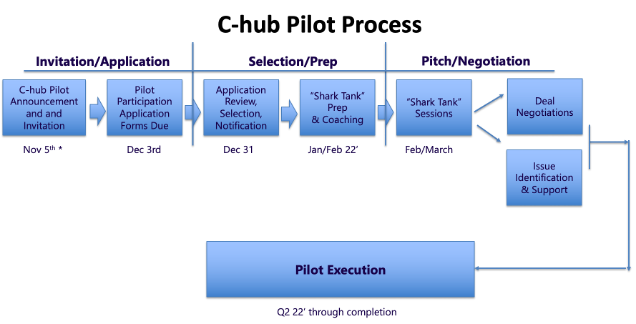 Participating in this first phase of the pilot (the Shark Tank) is free for GC3 members. Non-Members may participate by either joining GC3 or by paying a project fee of:
Suppliers:
$2,500 over $1M of revenue
$500 under $1M of revenue
Downstream manufacturers/retailers/investors:
$2,500 over $10M of revenue or assets under management
$500 under $10M of revenue or assets under management
Contact
If you have further questions or would like additional information, please contact:
Joel Tickner, GC3 Executive Director
Email: joel_tickner@uml.edu
Mark Maxwell, GC3 Director of Commercialization Strategies
Email: mark@maxwellleadershipgroup.com